EXCLUSIVE: Guggenheim Partners to Relocate 222,000 SF to Madison Avenue
---
---
Guggenheim Partners is looking to bring its New York headquarters to 330 Madison Avenue, sources told The Commercial Observer this afternoon.
The investment and financial services firm would take several floors in the base of the Vornado Realty-owned tower. Estimates vary how much space Guggenheim could fill in the building, but several people with knowledge of the firm's requirements pinned the potential deal at 220,000 square feet or larger.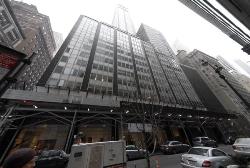 For months Guggenheim has been in the market in search of a space to relocate from its current location at 135 East 57th Street. The company began as an investment operation set up in the early part of the 20 Century to invest the Guggenheim family fortune but has since grown into a major private investment company with roughly $100 billion of funds under management and over 1,400 employees.
The company almost had a deal to move to 1251 Avenue of the Americas in recent months, where it was set to sublease about 220,000 square feet from the French financial company Natixis. That lease however crumbled abruptly over the summer when Natixis was unable to complete a transaction it had been arranging to relocate from 1251 Avenue of the Americas to 9 West 57th Street. Natixis in the end was forced to remain in place instead of subleasing the space to Guggenheim, casting the firm back into the market in search of space.
The deal at 330 Madison Avenue, if it gets done, would be a substantial expansion over the company's existing location at 135 West 57th Street, a building owned by Cohen Brothers Real Estate. According to sources, Guggenheim has less than 140,000 square feet in its present New York location. Its lease at 135 West 57th Street expires in 2013.
The deal at 330 Madison Avenue would be a sweet reward for Vornado, which has recently poured about $100 million dollar into extensive work to renovate the 39-story, 850,000 s/f building's facade, interior spaces and systems. The company anticipates the investment will allow the property to achieve LEED Silver certification, a benchmark of energy efficiency and environmental sustainability.
Last year, the real estate services company Jones Lang LaSalle took about 82,000 square feet in 330 Madison Avenue for its New York headquarters for rents in the $60s per square foot. It was not clear by press time if Guggenheim is negotiating to pay a similar rate.
Peter Hennessy, a top executive at the real estate services firm Cassidy Turley, is representing Guggenheim in its space search. Mr. Hennessy declined to comment. Frank Doyle, an executive at JLL (JLL), leads an agency team that handles leasing at 330 Madison Avenue. Doyle also declined to speak. Reps at Vornado and Guggenheim couldn't be reached.
1251 avenue of the americas
,
135 East 57th Street
,
330 Madison Avenue
,
Cassidy Turley
,
Cohen Brothers Realty
,
frank doyle
,
Guggenheim Partners
,
Natixis
,
Peter Hennessy
,
JLL
,
Vornado Realty Trust