EXCLUSIVE: 175 Varick Street Leasehold Hits the Market
---
---
Following a large leasing deal at 175 Varick Street last month, the asset's landlord, Extell Development, is putting its leasehold interest in the approximately 185,000-square-foot office property up on the market.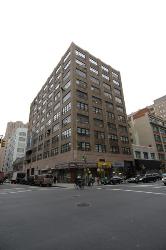 Gary Barnett, Extell's chief executive and one of the city's busiest developers, has tapped a team from Jones Lang LaSalle to market the property. Richard Baxter, a JLL executive, is handling the sale of the leasehold interest.
Mr. Barnett, who is also in the process of raising a soaring new hotel and residential tower on 57th Street, owns a 99-year leasehold of 175 Varick—which means that he controls the building but doesn't own the land underneath.
The building had previously been owned by the Lehman family, which used the property to operate a printing business. Many buildings in the Hudson Square neighborhood  where 175 Varick is located are former printing facilities that were eventually converted over to office use as the neighborhood began to attract media, technology and creative tenants. The Lehman family continues to own the land that the property sits on.
Mr. Barnett will be selling the remainder of his leasehold, which continues for another 92-years. The leasehold interest gives the buyer ownership of the building, but subjects the owner to rental payments to lease the land from the Lehmans. In 92-years, the building will revert back to the Lehman family's control, or whoever owns the land at that point.
Earlier this month, Extell inked a 75,000 square foot, 15-year lease at 175 Varick with WeWork, a tenant that leases space to small office users.
A team from JLL led by Sean Black, a leasing executive at the firm, represented WeWork in the deal. Colliers International brokers Eric Meyer, Richard Plehn and Seth Hecht were Extell's agents for the building.
Mr. Baxter estimated that the property could trade for as much as $40 million. Even though the lease with WeWork stabilizes the building's cash flow, Mr. Baxter pointed out that there is still upside potential in the investment if a buyer fills two floors that remain vacant in the property. He estimated that an investor would buy into the property at a roughly five percent rate of return and that the yield could then be raised to seven percent once the building's remaining vacancy was then leased.
175 Varick Street
,
Eric Meyer
,
Extell Development Company
,
Gary Barnett
,
Jones Lang LaSalle
,
Lehman family
,
Richard Baxter
,
Richard Plehn
,
Sean Black
,
Seth Hecht
,
WeWork