When the Elizabeth Foundation for the Arts sought to sell a block of space at its Midtown building in 2009, the nonprofit turned to a straight-talking broker at the Winoker Realty Company whose talent for converting condo space into offices had long ago cultivated her a reputation for success in the real estate industry.
The Elizabeth Foundation was looking to sell three floors and a retail space at 323 West 39th Street to raise money to pay off some of its mortgage while funding its thriving arts programs. The foundation had purchased the 52,573-square-foot building in 1999 under the assumption that owning, rather than renting, has its benefits.
"Our [message] is, why should you pay your landlord's mortgage if you can pay your own," said Jonata Dayan, the Israeli-born, Flatbush-bred broker who represented the Elizabeth Foundation in a 2009 transaction.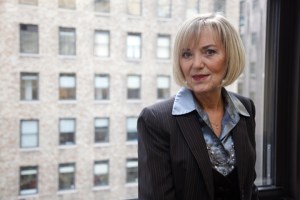 Owning an office space instead of renting often protects tenants from sudden rental spikes and serves as an equity investment for the tenant while also offering the option of refinancing, selling or leasing out the space when the owner needs income, said Ms. Dayan, 60, who founded Winoker Realty's office condominium and co-op division in 2005.
Ms. Dayan and her group eventually sold more than 10,000 square feet of space on the 11th and 12th floors of 323 West 39th Street for $4.85 million to Michael Brandon Enterprises, a fashion company.
For the Elizabeth Foundation, it was a healthy profit. For Ms. Dayan, it was proof that her mother-and-sons team—Adam Ben-Dayan, 35, and Jonathan Ben-Dayan, 26, both work for Ms. Dayan—could co-exist just as well in the work realm as they regularly do in the family.
"There is a vested interest," said Adam, who joined the firm in 2007. "Everybody wants to see the others do well, especially when it's your family."
Ms. Dayan and sons are currently marketing another floor and the retail space for the Elizabeth Foundation.
Together, the team has handled co-op and condo sales deals that have brought the joys of ownership to companies like Mondani
Accessories and Titanium Marketing. Meanwhile, she helped the software developer StellaService buy an 11,294-square-foot office condo for $5.08 million.
And with the increases in the property value—5 percent per year, in her optimistic opinion—tenants like StellaService are spared the intemperate price increases of a long-term lease.
"With all the increases generated by the landlord, the [building's] owner is way ahead of the tenant," said Ms. Dayan of office renters.
When a company owns its office space, it should look at it as a long-term investment, not something to be flipped for a profit in five years, cautioned Ms. Dayan during an interview earlier this month.
"If you're in it for the long haul and you're looking at a 10-year lease, then buy," said Ms. Dayan.
And in the event a company needs to reposition, she says, it can lease or sell the floor, which, in the end, is easier than subleasing, she added.
"Most of these leases are pretty iron-clad, and if you try to get a sublease approved by a landlord and the landlord has three or four empty floors, you will find that it will be much harder to get that approval for the sublease than you will to sell the floor," she said.
While a condo association has the first right of refusal for the sale of a company's office space, it then will have to either rent or buy the floor from that company.
"So you're not in a bad position, or any worse position than you would be with a long-term lease," said Ms. Dayan.
For renters, the disadvantages of not owning space are plentiful: the residual value of a company's lease is nil, and if it's signing a long-term lease, it needs to know—and be confident in—growth projections.
For owners, meanwhile, negotiating the lease is a one-time ordeal while the renter's fear of reoccurring rent hikes fades away for condo owners. Additionally, she added, real estate taxes for owners rarely fluctuate.
For Ms. Dayan, who spent 30 years working with her husband, Eli Dayan, in fashion, assisting businesses in their search for permanent space is like giving tenants the chance she and her husband never had while they were leasing showroom space on Broadway in the 1980s.
A graduate of Erasmus Hall High School—which counts Barbra Streisand and the late longtime Oakland Raiders owner Al Davis as alumni—Ms. Dayan handled the business operations for Bon Jour Jeans, a famed jeans brand that her husband owned.