The Number Cruncher: The JLL Powerhouse on Her BBC Deal
---
---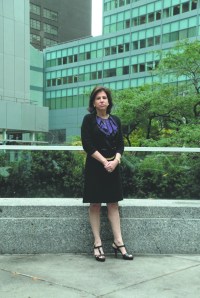 When the British Broadcasting Corporation began its search for new office space for the executive and sales staff in Manhattan last year, its focus was on finding space that had a newsroom feel, free of the labyrinthine private offices and barriers so common among law firms, doctors' offices and corporate accounting firms.
Like the bullpen made famous by Mayor Bloomberg, the company envisioned a Manhattan office with open space that would inspire transparency and collaboration while eschewing privacy.
In late 2010, the BBC moved from its 45,000-square-foot office at 747 Third Avenue to a new space at 1120 Avenue of the Americas, a 55,000-square-foot office that boasts wide-open space and additional room for its growing workforce of stateside executives and sales people.
"They don't have any private offices in there at all," said Lisa Kiell, a managing director at Jones Lang LaSalle who has brokered approximately four million square feet in transactions since joining the company in 1994. "It's much more efficient [than the BBC's former space]. [It's] easier."
Sitting in a conference room in JLL's Lexington Avenue headquarters, Ms. Kiell, 47, said more media and technology companies, such as her tenant BBC Worldwide Americas, are increasingly seeking offices with open space, both to foster collaboration among employees and to house their expanding work forces.
Like Google, which last year garnered headlines with its acquisition of 111 Eighth Avenue, other Silicon Valley companies are viewing the East Coast as a fertile recruiting ground for talented new developers and engineers in addition to the sales and marketing divisions that long ago planted flags near Madison Avenue.
"The work force is here and the skilled labor is here," said Ms. Kiell, who has brokered deals for Cisco Systems, Medidata Solutions and Microsoft, for whom she is currently working on a 200,000-square-foot transaction in New York. "At some point, they're going to run out of possibilities in Palo Alto for those people so I think New York and probably Boston are going to increasingly have opportunities for technology."