Rafael Viñoly's Shiny Bronx Courthouse More Like a Prison
---
---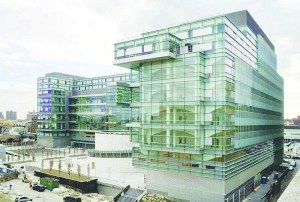 When it opened four years ago, the Bronx Hall of Justice was heralded as a bright new beacon for the borough, a return to the grandeur of the Grand Concourse's history.
Instead, the Rafael Viñoly-designed civic structure turned out to be yet another hulking mass of shabby construction and unreliable service, the kind of bad buildings that have plagued the Bronx for decades. The problems at the Bronx Hall of Justice are myriad, according to the Daily News, and, as usual, no one seems to care very much.
•                Glitches in the computerized lighting system caused several blackouts last month, leading some judges to evacuate their courtrooms.
•                Elevators routinely break down and close on passengers' arms and legs.
•                The escalators are regularly out of service, leaving elevators packed to capacity.
•                Blaring fire alarms sound at least once a week for no reason.
•                A sixth-floor roof leak has been gushing for months, flooding the hallway and causing mold to grow outside courtrooms.
"It's still the shabbiest, most poorly built, least maintained courthouse in the city," one court employee said. "The worst part is, no matter how much we complain about broken escalators or elevators, nothing gets done."
And these are just the new problems. The signature courtyard and the parking garage beneath it have never opened because of concerns about structural stability—the brand-new building could come crashing down any day. –Matt Chaban