Jeweler's Full-Floor Deal in Revamped 1385 Broadway
---
---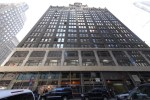 Jewelry manufacturer and distributor Jac­­mel Jewelry has taken the entire eighth floor, or 23,500 square feet, of recently renovated 1385 Broadway. The company will relocate its corporate headquarters from Long Island City in a long-term lease at the 23-story, 435,678-square-foot tower owned by an affiliate of Bloomingdale Properties.
Average asking rents in 1385 Broadway are around $40 a square foot.
The building has completed $55 million in capital improvements, including a new entrance and lobby; replacement of all windows; and upgrades to the elevators, restrooms and common areas.
The Jacmel deal represents something of a milestone for Cushman & Wakefield, as the brokerage has arranged more than 350,000 square feet in deals since becoming the exclusive agent for the building in 2010 (there are two other full floors available at 17,000 and 23,500 square feet). Other recent leases include one for Dattner Architects, which took the entire 15th floor in another long-term deal, as well as ones for Paris Associates and the New York State Health Foundation.
Cushman & Wakefield's Jonathan R. Serko, Diana Gaines, Gary Greenspan, David Malawer and Larry Lazerwitz represented the landlord in the Jacmel lease.
Michael Beyda from Benchmark Properties and Matthew Dweck from Dweck Group represented the tenant.
tacitelli@observer.com  ::  Follow on Twitter @tacitelli