No Wonder Blackstone's Boss Just Bought a $25 M. Co-op
---
---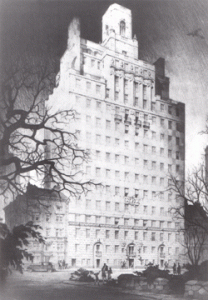 On Tuesday, The Observer reported Tony James had bought a duplex at 834 Fifth, that godly Upper East Side edifice. Perhaps it was a present to himself for how well The Blackstone (BX) Group, which he has run for the past few years alongside Steve Schwarzman, is now doing.The Times' Dealbook sort of says it all:
The Blackstone Group said Thursday that its profit more than tripled in the second quarter, bolstered once again by its huge real estate operations as the market for commercial property continued to improve.

How about that. Real estate begets real estate.

"The star performer in the quarter was real estate," Mr. James told The Journal, which also has more details of the stunning rebound for Blackstone's real estate holdings:

Blackstone's real-estate group, which manages nearly $28 billion and is led by Jonathan Gray and Chad Pike, has focused on buying distressed assets in the past few years. Blackstone recently teamed up with Goldman Sachs Group Inc. and Deutsche Bank AG to bid for the roughly $9.5 billion U.S. real-estate portfolio of nationalized lender Anglo Irish Bank Corp.

The approach has paid off as commercial real-estate prices have firmed, especially in the office and hospitality market, even as residential housing remains weak. The value of Blackstone's real-estate holdings gained 6.7% in the quarter.

Blackstone recorded profits from real estate that rose to $453.5 million, from $121.4 million a year ago, helped by performance fees of $450.3 million, up from $37.4 million. Blackstone was helped because two of its real-estate funds have cleared the 8% "hurdle" rate of return, above which it can claim a 20% cut of returns.

On second thought, is that really so much money? When you think about it, that would only buy 18 of Mr. James' new homes, or, assuming it were on the market today and would probably fetch at least $50 million, only nine of Mr. Schwarzman's unheralded triplex at 740 Park. Frankly, we expect more.