Unmasking Three Mismatched Heavies Who Won and Lost the Drake
---
---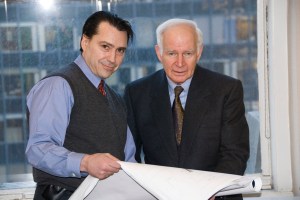 In the early summer of 2008, Arthur G. Cohen rode the elevator to Harry Macklowe's 21st-floor office in the G.M. Building wearing a black suit and bright pink dress shirt. Mr. Macklowe, sporting navy blue pinstripes and a multibillion-dollar real estate empire under siege, signed away his beloved Drake Hotel site to an enterprise called CMZ for $850 million.
CMZ is one of the more bizarre development teams ever assembled in the city, yet its existence has remained hidden until now from all but a handful of insiders. One-time top developer Mr. Cohen joined Washington lobbying czar Paul Manafort and Brad Zackson, a scrappy former righthand man to Fred Trump Sr., in a baffling boom-time enterprise. They looked at billions of dollars' worth of properties such as the Drake, the Manhattan House, the Helmsley Hotel and two Bahamian islands—but with some of the world's best real estate almost in their grasp, they never bought a single trophy property.
By late 2008, their international investors began to lose confidence and withdraw. Executives exchanged frantic, sometimes accusatory emails. The company's phone and Internet connections were repeatedly cut off. Hundreds of pages of public records, as well as multiple employee accounts and internal company documents and emails, all obtained by The Observer, provide a verifiable tale of the hubris and demise of these would-be kings of Manhattan real estate.
With their tower dreams in shambles, Messrs. Cohen, Manafort and Zackson never closed on the Drake, arguably the most valuable development site in North America, which instead went to California-based CIM for less than half their offer. "It will be beautiful," an inside source said. "But it will be the CIM tower. It could have been the CMZ tower."
In 1995 a boyish Brad Zackson posed for Crain's' "40 Under 40" list in one of his few media appearances. His Dynamic Group's portfolio of Queens apartment buildings had made the 34-year-old a multimillionaire, with a staff of 50 under his command. "I got the reputation as the person to call when a building was in trouble," he told the business trade then.
Ten years later, the market was booming and the broker without a college education had built a modest fiefdom in the boroughs, gaining access to society's inner circle through the Trumps and by dating actress Lori Singer. "Name a developer in the city," said a former employee, "and Brad can show you the scar."
Mr. Zackson set his sights higher—much higher—on a 2,000-acre emerald development parcel in the Bahamas. Eleuthera Island's Sound Point was to be a destination for Palm Beach's elite, with a casino, a P.G.A. golf course and a hotel. The small-potatoes New York developer struggled, however, to come up with financing and to navigate the labyrinthine Bahamian bureaucracy, so he teamed up with international players Messrs. Cohen and Manafort.
Mr. Cohen, now past 80, has his fingerprints all over Manhattan's trophy real estate. He helped build the Olympic Tower with Aristotle Onassis on Fifth Avenue and the mammoth Worldwide Plaza, and he's partnered with heavyweights from William Zeckendorf Sr. to Larry Silverstein. "There was a time when every deal had Arthur Cohen," said Andrew Albstein, an attorney who worked with CMZ. "If there was a deal to be done in New York, you had to go through him. He could do anything … He was in construction, commercial, residential, financing—anything and everything."
In 1998, Mr. Cohen paid $4.5 million to resolve claims that he funneled millions of dollars in loans into several dubious New York City construction projects, the largest settlement of its kind to that date. In the subsequent decade, Mr. Cohen faded from view, but he was salivating for a comeback.
He joined with Mr. Manafort, a long-time Republican strategist and senior adviser to Ronald Regan, Bob Dole and both George Bushes. The lobbyist brought political savvy and an uncanny ability to conjure investors, such as Ukrainian billionaire gas king Dmitry Firtash, for projects.