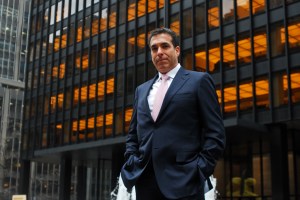 He has closed deals for companies like Mitsubishi, the Legal Aid Society and Jones Apparel, the latter ranking high among the biggest leases of last year. But since joining Jones Lang LaSalle as a vice chairman in September, Robert Martin has done more than generate volume and square footage. From the ground up, in fact, he's doing his part to change the firm's very culture.
While the New York native estimates that only 15 percent of his time is spent building JLL's tristate brokerage initiative, he's already made his mark, from weekly meetings to how the firm presents its research.
"My role is to take all the best of what I've learned throughout my entire career and put systems in place and evaluate our sales efforts here," said Mr. Martin, a 49-year-old married father of three who lives in Greenwich, Conn. "It's making sure we have a cutting-edge training program and making sure that our research is providing value-not only to all of our brokers here, but to all of our clients."
His résumé includes 15 years with CB Richard Ellis (where, each year, he ranked among the top-producing 3 percent of its brokers worldwide) and time at Grubb & Ellis (where, in 1991, he was recognized as the No. 1 broker among the firm's worldwide coterie of 1,200 agents). The experience provides Mr. Martin a certain perspective that translates beyond the merely academic.
Case in point: JLL's long-held weekly meetings, break-of-dawn-style powwows of 90 or more brokers, from the veterans on down to the wet-behind-the-ears rookies, were yielding fewer results than desired.
Mr. Martin's solution was to slice the brokers into four groups: one for agents with fewer than three years of experience, and three others for the more seasoned agents. So far, the smaller groupings have allowed more voices to be heard. "Now at these meetings they're talking about what they're working on and comps and tenants-to-market," he said of what are now biweekly meetings. "They're sharing in the information."
For the most junior brokers, he and other heads of the brokerage division—especially Daoud Awad, a managing director at JLL—have toggled the firm's training program. Where the philosophy had once been to teach the fundamentals of sourcing, control and then implementation, in that order, Mr. Martin has reshuffled the deck so that today, implementation trumps control in the new training hierarchy.
"We thought the value should be to get meetings so that they can generate the business for themselves, followed by how to implement it so that they can help other brokers and get involved and be valuable so that they would be brought into deals," said Mr. Martin, who has also taken steps to update how the firm's research is analyzed and presented to brokers and clients. "Lastly, it's how to get hired. So that's a program being rolled out right now."
That is the 15 percent of Mr. Martin's schedule dedicated to building the brokerage team. The remaining 85 percent is occupied by, well, brokerage.
Indeed, the Jones Apparel deal ranks among one of Manhattan's more ballyhooed in recent memory—as it should: With 412,000 square feet, the lease stands as the third largest last year in terms of size.
As described by Mr. Martin, the deal, which closed in May, spawned from a relationship that began in 1998 with a 300,000-square-foot renewal at 1411 Broadway soon after he left Grubb & Ellis for a position at CB Richard Ellis. But when Jones Apparel's landlord decided to reposition 1411 Broadway and hike rents 10 years later, while the market was still flourishing, Mr. Martin was called upon again to seek space before a 2012 expiration.
"In the end, we pushed hard and got a great result for Jones," the Wharton economics grad said. "We got a lot of expansion options and a lot of real flexibility in that building."
IT WAS A PARTICULARLY creative transaction 25 years earlier that first gave the real estate industry an inkling of what Mr. Martin was capable of. In addition to his first deal, a lease inked for Mutual of New York that led to several more assignments for the insurance giant, Mr. Martin spotlighted a transaction for the Legal Aid Society as a prideful point in his early career.
Spread across 100,000 square feet of dilapidated space at 15 Park Row, the country's largest and oldest provider of free legal assistance for the indigent sought to relocate in 1993. But with a strained budget and a need to remain close to downtown courthouses, the group struggled to pinpoint affordable space to comfortably accommodate its cadre of approximately 1,000 lawyers.
Around the same time that the Legal Aid Society retained him, Mr. Martin began representing Marine Midland Bank, the forerunner to HSBC Bank. While visiting that institution's office atop the World Trade Center one day, he gazed down upon the roof of an H-shaped federal building occupied by the U.S. Postal Service. Even from that bird's-eye view, he correctly estimated that its floor plate boasted 90,000 feet.
With further investigation, Mr. Martin discovered that the 15-story, 900,000-square-foot asset at 90 Church Street contained several floors of vacant space and had never been leased to an entity outside of the Postal Service. But while initial meetings with landlords seemed promising, he couldn't have predicted what would happen next.
Because space had never been leased to a private entity, postal officials had to get government approval from their superiors in Washington, D.C., and file a deluge of paperwork, said Mr. Martin. The process spanned several months.
However challenging that process, what followed proved tougher. To be sure, just when the government gave its green light on a 20-year lease for 150,000 square feet of upper-floor space, Legal Aid Society lawyers went on strike in 1994. The mayor at the time, Rudolph Giuliani, threatened to bar the striking lawyers from future business. Not uncoincidentally, the deal collapsed.
It was more than a year later, after the contracts with striking lawyers were renewed, that Mr. Martin salvaged his deal at 90 Church. When the lease was signed, it represented not only a first for a private company in the building, but, for Mr. Martin, the beginning of a relationship that would net more than 500,000 square feet of future leasing.
Much more than simply a complicated transaction, the assignment provided a lesson that Mr. Martin now teaches nearly two decades later as the head of brokerage at Jones Lang LaSalle.
"What I learned with that assignment is that you have to find the solution," he said. "And you have to hear your clients out, and understand what the client wants, and then you have to figure out how to find their solution."
jsederstrom@observer.com