Apartment Towers Coming to Penn Station Wasteland?
---
---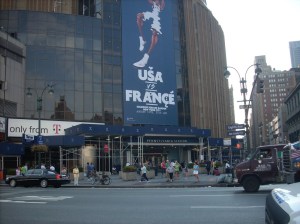 In a move that could help revive debate about the future of midtown west's grungy office stock, Edison Properties wants to build a 407-unit residential tower in the area directly south of Penn Station, currently a no man's land of cheap office lofts and questionable pizza joints.
The New Jersey-based developer owns a parking lot at 249 West 28th Street, where it plans to build a large apartment tower with an affordable housing component, but needs the area rezoned. Edison and the Department of City Planning have submitted concurrent proposals to rezone the former Fur District, spanning from Sixth to Eighth avenues and 28th to 30th streets to allow for some large residential development, while trying to preserve cheap office space and forestall new hotel development.
The proposal is likely to stir up a decades-old questions about the future of midtown west, an area once dominated by garment manufacturers and now dotted with empty cheap office lofts, with condos and hotels in between. A previous proposal to rezone the Garment District to allow for more office development has stalled. New apartment towers south of Penn Station could, however, create additional pressure to rezone the Garment District, even as Brookfield is set to erect a massive mixed-use development at 33rd Street and rumblings of progress are also being felt at Hudson Yards–all likely to bring an influx of residents to surrounding areas.
In an apparent effort to preempt some of that opposition, the proposal requires developers to replace any office space over 50,000 square feet that is lost to demolition. Plus, a few more well-moneyed condo and rental dwellers can only help the office market, right?
"Adding a measure of residential development to these business districts," said planning commissioner Amanda Burden in a statement, "can foster a more lively working environment while preserving and protecting existing office space and distinctive building stock." (The new zone will also restrict development of hotels with more than 100 rooms, a move that could rankle developers, who have targeted it as a prime hotel development area.)
Community Board Five will hold a meeting to discuss the rezoning proposal next Wednesday. Edison Properties has not yet prepared a statement or appointed a spokesperson.
lkusisto@observer.com
Update: An earlier version mistated that Community Board Six would review the proposal.