Payless Picks New Lower East Side Spot
---
---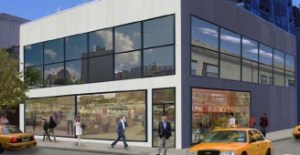 With tacky luggage getting harder to come by on the Lower East Side, it's comforting to know that at least more stylish discount shoes are proliferating.
A shiny retail space at 130 Delancey Street, which has been on the market for a couple of years, is cobbling together a retail revival after all, with 7,000 square feet of ground-floor leases signed recently. Payless Shoes has taken 3,300 square feet on the northwest corner of Delancey and Norfolk for 10 years.
"They are a great national tenant and it makes sense that they should be there," Robert K. Futterman & Associates' Ariel Schuster told The Observer. He represented the landlord, along with Michael Worthman.
Industry sources also say The Children's Place has taken 3,700 square feet on the ground floor and 2,000 square feet in the basement. Mr. Schuster declined to comment on this lease.
The asking rent was $125 a square foot for the Payless space near rival Fabco Shoes, Bank of America and AT&T. Laura Pomerantz and Betty Ende, both of PBS Real Estate, represented the tenant.
lkusisto@observer.com