Cuomo, Big Real Estate Move Closer on Rent Regs
---
---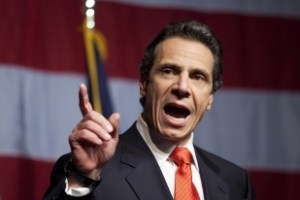 Rent-regulation reformers could be poised for their first victory in decades.
Ninety-one state lawmakers wrote a letter to the governor this week, calling on him to include what proponents call rent-regulation reform in the budget due March 31. In a surprising turn, the governor agreed. He said at a March 17 press conference that he now sees rent regulation and a 2 percent property-tax cap as issues that should be considered as part of the budget. "My position is I would like to see them done in the budget," Mr. Cuomo said during the presser with all four legislative leaders, Daily Politics reported. He also seemed open to the idea of linking it to a property-tax cap.
New York's rent laws expire June 15, leaving over 1 million apartments in the city open to deregulation. The Republican-controlled Senate is unlikely to let the regulations lapse entirely, but Democrats have been searching for leverage to get the laws strengthened as well, including an end to the hated vacancy destabilization clause in the current legislation and raising the cap at which apartments are destabilized above $2,000.
Now The Journal is reporting that even the staunchly anti-regulation Real Estate Board of New York is open to raising the $2,000 cap. "We are prepared to look at a higher number," president Steven Spinola said. "It depends what the rest of the package is."
Democrats privately admit that if the laws aren't renewed as part of the budget, they're likely to be weakened, or at best maintained.
But publicly, they say Mr. Cuomo's announcement has re-energized the campaign. "The cap and the budget together," Senator Daniel Sqaudron of Brooklyn told The Observer, "create the circumstances we need to extend and [to] repeal vacancy decontrol."
lkusisto@observer.com