Year's Biggest Un-Lease! Bloomberg Steps Around Wells Fargo
---
---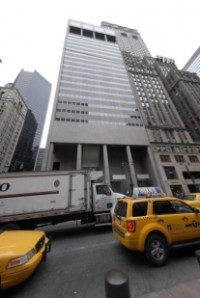 120 Park Avenue
Rarely does a company take half of a tower without so much as a whisper beforehand. It's even more extraordinary when that company swoops into a space that everyone in the industry thought was taken
But this is Bloomberg LP we're talking about–the nimble behemoth that, for better or worse, has become the city's (the world's?) most formidable media operation. The company has signed a lease for 400,000 square feet–a story, mind you, it broke itself. That's more than twice as much space as Bloomberg was thought to be looking for, sources told The Commercial Observer.
While the city's media has been experiencing an agonizing contraction, Bloomberg has added 1,805 New York-based staff and now employs more than 6,500 people in its New York offices, according to the story.
But the lease has shaken industry insiders, who believed the 120 Park space had been claimed by Wells Fargo. Real Estate Weekly, in fact, reported in January that Wells Fargo was consolidating into 300,000 square feet in 120 Park.
The Commercial Observer spoke with several brokers not involved with the deal who said the Wells Fargo lease had been "close," but none could say how close. Paul Glickman of Jones Lang LaSalle represents the landlord, Global Holdings. His assistant said Wells Fargo wasn't close to making a deal, but she insisted Mr. Glickman would not want to speak with us.
Ben Lambert of Eastdil Secured, who reportedly represented Wells Fargo in the 120 Park deal, did not respond to requests for comment. CB Richard Ellis vice chairmen Howard Fiddle and Craig Reicher repped Bloomberg.