Grill vs. Grill: Smashburger Opening Near Shake Shack
---
---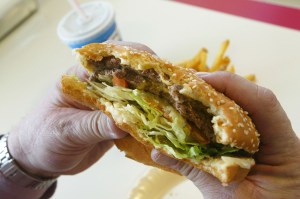 80 DeKalb Avenue
Until recently, the most pressing question facing Brooklyn patty partisans was whether to get the pickles on the side.
Then several months ago The Observer reported that Shake Shack was heading for Fulton Mall, adding some much-needed sizzle to the borough's burger options. Now comes news that New York's beloved burger chain will have to go bun-for-bun with Denver-based Smashburger, which is opening a location just blocks away at 80 DeKalb Avenue.
The tenant was represented by Timothy King, Eric Altschul and Ryan Condren of CPEX Realty, who are also helping Smashburger scout for two more Brooklyn locations.
"Downtown Brooklyn is hot," Mr. King said. "It's a booming area with almost three million residents, 11 colleges, 37 banks and a multitude of subway and bus lines as well as entertainment, recreational and cultural facilities."
For our part, we're waiting to see how this grill-off unfolds. Smashburgers are slightly more expensive than their Shake Shack counterparts, and Smashburger doesn't offer any of the Shake Shack's famous frozen custards (obviously). But, then again, there's the delicious Smash sauce. What's a carnivorous BroBo to do?