Andy Simon, the Accidental Scion
---
---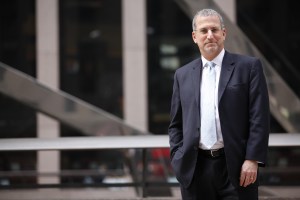 Should I stay or should I go," as Mick Jones of the Clash once sang, was the question weighing on Andy Simon's mind throughout much of last year.
But whereas Mr. Jones was lamenting a turbulent personal relationship, Mr. Simon's thoughts were careening along a matter of real estate.
Indeed, having served four years at NAI Global, most recently as an executive managing director, the veteran broker had long sought to expand from his traditional specialization as a leasing agent into investment sales, which he had slowly veered into over the years anyway. As it were, Mr. Simon met with Mark Jaccom of Colliers International (CIGI), who assured the broker that his interest in investment sales would be embraced. It was very shortly thereafter that Mr. Simon made up his mind to leave NAI.
"We were building a game plan, but we were frustrated by the lack of true commitment to resources and other things that you need people around you to help you build that business," said Mr. Simon of NAI Global, the firm from which he resigned in mid-December. "I was spending the last six months or so gearing up to either improve my deal there or to extricate; and it wound up being leaving the company at the end of the year."
Among his largest investment-sales transactions was the one he arranged on behalf of New York Life for the sale of 44 Wall Street, a two-phase, sealed-bid process that culminated in 1995 with a purchase by Norman Sturner. "That process was very similar to what the big investment brokerage firms have been doing in just the last few years," said Mr. Simon of 44 Wall, which, coming out of the early 1990s downturn, was the biggest sale in the downtown Manhattan market. "We established a market and put the war room together and went to active buyers in the real estate market."
In the early 1990s, meanwhile, he sold a building at 12 East 52nd Street to the U.S. subsidiary of what was once a Yugoslavian bank that by the time of closing had become a Slovenian firm. He also oversaw the massive 340,000-square-foot repositioning of 1180 Avenue of the Americas. Besides the repositioning, he spearheaded project management and rebranding at the building as well as the leasing of 141,000 square feet of space, he said.
"It took me a while to get comfortable enough and confident enough to break into that world," said Mr. Simon, 53. "But through contacts and meetings and through working with people who work solely on the investment side over the years, a lot of that has rubbed off on me. Really, it just interests me."
MR. SIMON WAS raised among a large family of brokers and developers on the Upper East Side. His father was a successful broker, and he grew up in a home built in the 1930s by the Simon Brothers, a development company helmed by his grandfather, a pair of great-uncles and their sister.
"My father always told me that Simon Brothers, in its day, in the '30s and '40s, was probably even bigger than Uris and Tishman, which were big names in those days," said Mr. Simon, whose mother still lives in the domicile his family built on 301 East 66th Street.
But it wasn't until the 1980s, during a meeting with Henry Baker, one of the stalwarts of the real estate industry, that a 20-something Mr. Simon discovered exactly how entrenched his family was. To be sure, during their lunch, he learned that Mr. Baker—then nearing the end of a full career at Edward S. Gordon—had once negotiated a real estate deal with the broker's great-grandfather.
"I found out at the lunch that he had done a deal in the nineteen-teens with my great-grandfather, so I was fourth generation in the business," he said. "I never knew that. In those days, I guess that meant three- and four-story walk-ups on the East Side."
Mr. Simon had already come into his own as a broker several years earlier, having accepted a position first at his father's small firm, Herbert Charles, before moving to Jones Lang Wooten. While at Herbert Charles, Mr. Simon trained under a pair of mentors who had sharpened their teeth in the 1960s at the Williams Real Estate Company, the organization that, four decades later, merged into Colliers International, the very firm at which the broker would end up.
"It was a different world back then, but we would go to the top of the building with a pad of paper and write down every tenant on the top floor, and then go down the building," he said. "In those days you were allowed in the buildings. You might occasionally get kicked out-but there were ways in."
The move into real estate came only after his bittersweet realization that his deep love for rock 'n' roll and jazz would not easily translate into a viable career. Alas, his connections were not in music but in the real estate sector.
For the married father of two girls who lives in Princeton Junction, N.J., the commitment to real estate has proven to be the right decision. To be sure, he said his determination to live up to his family's high values has continued to rank high among his goals.
"I know that my father was always a gentleman in this business, and that helped to shape the way I would like people to think of me," Mr. Simon said. "I'm aggressive, but I'm not unethical. I'm not one who's going to try to get a deal done at all costs at the potential embarrassment of the client. I try to do what's right so that they can look back and say that it was a good deal."
jsederstrom@observer.com