Details on What's Cooking with Panera in Brooklyn
---
---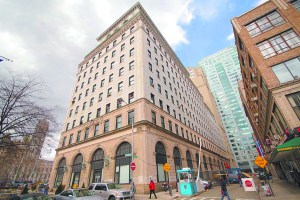 345 Adams Street
As if there weren't enough reasons to be merry and 10 pounds heavier this holiday season, the irresistible aroma of French toast bagel sandwiches and toffee nut shortbread is coming to Brooklyn.
Panera Bread will open its first location in the borough, directly across from the much-anticipated Shake Shack. The bakers have taken 4,500 square feet, including 2,200 square feet on the ground floor and 2,300 square feet above, for 15 years.
Whether the '80s carb craze gave birth to the St. Louis-based bakery or the other way around, we'll never know. But we can tell you that this deals the final death blow to the Atkins diet, given that even bowls are made of bread.
"Panera Bread provides another dining option to the hundreds of thousands of businesspeople, visitors and residents in downtown Brooklyn," Joshua Muss of landlord Muss Development said in a statement. Indeed, until now the area has offered much in the way of fried chicken and soggy pizza and little in the way of gourmet pastries or fresh-brewed iced tea. There is a Morton's Steakhouse at 225 Adams, Mr. Muss noted.
Sadly, it seems unlikely the café will actually be open in time for the holidays, as the landlord still plans to do work on the facade and second-floor space, according to Crain's, which first had news of the deal.
The chain has 1,400 outposts in the U.S. and Ontario, including 26 locations on Staten Island and in Queens. But so far residents of Manhattan and Brooklyn have been spared the temptation.
Naturally, Borough President Marty Markowitz had something to say as well. "I predict Panera will find great success–and make lots of 'dough'–in Brooklyn," he said. We'll spare you the rest.
Robert Greenstone of Greenstone Realty Corporation represented the landlord. Thomas Rettaliata of RIPCO Real Estate represented the tenant.