Almost! Two Expansions Bring Resnick Building to the Brim
---
---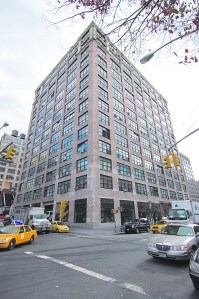 250 Hudson Street
If you build a 10,000-square-foot rooftop garden in Hudson Square, they will come.
After an extensive renovation and intense push to attract high-end new tenants, the transformed warehouse at 250 Hudson formerly occupied by printing companies is almost full.
Jack Resnick & Sons has owned the building for years, but recently undertook a $40 million renovation, including an expanded lobby, more elevators, new windows and, yes, an award-winning green roof an architecture magazine described as a "prairie in the city."
"To make it really worth our while, we started signing tenants," Dennis Brady, executive managing director of leasing for the landlord, told The Commercial Observer.
Most recently, two existing tenants have signed expansions. Marketers International Group of Companies has leased another 5,360 square feet, bringing its overall presence to 40,000 square feet. In another long-term expansion, Gluckman Mayner Architects has increased its space to 8,000 square feet.
Many of the tenants who've signed in the last couple of years have been drawn down from midtown. "We did all of this when the market was not in the greatest shape," Mr. Brady said. "It's a great little neighborhood." Asking rents were in the $40s.
Other tenants include peppy TED Talks, PR giant Daniel J. Edelman and law firm Lieff, Cabraser Heimann & Bernstein. There was even buzz at one point that Liz Claiborne would take office space in the building.
Now only one 27,000-square-foot floor remains available. "We're at the end," Mr. Brady said. "God willing, in the not-too-distant future, we'll be able to tell you it's 100 percent rented."
Robert Romano of Jones Lang LaSalle represented International Group. Mitchell Konsker and Scott Vinett of Cushman & Wakefield represented Gluckman Mayner. Mr. Brady and Brett Greenberg represented the landlord in-house.