They Can't Even Afford a Second Manhattan Station, But Now the 7 Train Will Stop in Secaucus?
---
---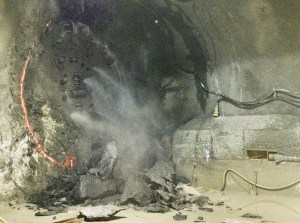 Westward, ho… after all!
In the confusion following the disappearance of the ARC Tunnel last month, the biggest question seemed to be what would happen to the $3 billion the federal government had set aside for the trans-Hudson train tunnel, by certain measures the largest transportation project ever undertaken. Local politicians, including Mayor Bloomberg as well as the outgoing and incoming governors of New York, were desperate to keep the money in the metro area, and it seems the city has cooked up a way to do just that: extend the 7 train under the Hudson to New Jersey.
This may sound crazy, but it also makes a bit of sense, as WNYC's Andrea Bernstein pointed out when she broke the news on the project:
Unlike the ARC tunnel, an extension of the number 7 would start at 11th Avenue and go west, avoiding the costly proposition of boring a tunnel under Manhattan to Herald Square. It would also instantly take riders to Grand Central station, a holy grail of the ARC project. But it would not necessarily have the same capacity as the ARC, because trains wouldn't be arriving on several Manahttan platforms, as commuter trains do, but not subways. And New Jersey transit riders, who were projected to save an average of 45 minutes on their commute times to Manhattan, would have to switch trains, potentially eliminating much of that time savings.
Well, they can thank New Jersey Governor Chris Christie for that, the man responsible for killing the ARC Tunnel–arguably on political grounds.
Because of its planned path, the new tunnel is projected to cost $5.3 billion, compared to its predecessor's initial estimate of $8.7 billion–though that amount was later projected to be as high as $10 billion to $15 billion. Furthermore, as The Times reports, the project would hopefully provide enough money for the highly sought-after 10th Avenue stop on the 7 train extension, an effort that was recently left for dead.
Still, the Bloomberg administration cautions that these plans are beyond tentative–that sounds familiar–with the Times making mention of a four-page draft, which sounds more like a napkin sketch than a set of blueprints. After all, public approvals alone could take years. And while even Governor Christie said he was interested in the plan, he, and everyone outside of City Hall, said this was the first they had heard of it. The Times is even reporting now that no one at the MTA even knew about the proposal until it leaked out yesterday.
Has the train already left the station, or is it just building steam?