Big Bird Refeathers 140K-Foot Nest at One Lincoln Plaza
---
---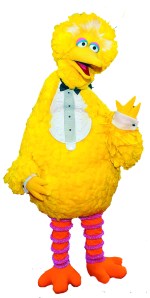 1900 Broadway
How do you get to Sesame Street has long been one of the city's more serious real estate quandaries. At least we know that the show's creators have renewed their 140,000-square-foot space across from Lincoln Center.
Elmo recently revealed that one of the show's enviable brownstones will set you back "a gazillion dollars." Thankfully, the Sesame Workshop got a better deal for four floors at One Lincoln Plaza, where asking rents are $55 a square foot.
"As so many people have grown up with Sesame Workshop's engaging educational content, so too the organization has 'grown up' within 1900 Broadway," said Gary Knell, president of the Sesame Workshop, in a statement.
Much has changed during the nonprofit's 40-year sojourn in the building. Cookie Monster has blasphemously declared his love for veggies and Bert apparently came out of the closet on Twitter. More on point, the landlord is performing a major upgrade to the show's space as part of the deal.
"Updating the space gives the workshop the opportunity to create a more collaborative open work environment," said Susan Kolar, chief strategy and administrative officer for the nonprofit, "enlivening the Sesame Street neighborhood for many years to come."
Barry Gosin, Moshe Sukenik and Robin Fisher of Newmark Knight Frank represented the tenant. The landlord, New York-based Ogden CAP Properties, was represented in-house by Lester Schwalb.
The New York Post first had news of the deal.