Will Vornado's 15 Penn Plaza Disrupt Empire State Building's FM Airwaves?
---
---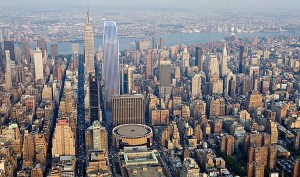 It appears the fight over 15 Penn Plaza is not yet over. Vornado's 1,216-foot Rafael Pelli-designed skyscraper on the Hotel Pennsylvania site has already rocked the skyline, and now it is hitting the airwaves.
The Real Deal spotted a funny story in Radio World about how the city's broadcasters are worried over the impact the slick new tower might have on transmissions from the Empire State Building's spire.
The Empire State Building is home to 19 FM stations and most of the city's digital television transmitters. Many radio and television broadcasters migrated there after the collapse of the World Trade Center's twin towers in the attacks of Sept. 11, 2001.

Multipath issues are nothing new in the city because of its monstrously tall buildings, but the proximity of the skyscraper to the Empire State Building — approximately a quarter-mile — raises a red flag for some in the broadcast community.

Any nearby obstruction to FM signals from Empire could have a major impact on the radio market, observers said. New York generates the second-most revenue among radio markets in the country, according to BIA/Kelsey.
Perhaps broadcasters could move back downtown to One World Trade Center, once the city's tallest-building-to-be is complete. If they did, though, it might prove another challenge for the Empire State Building.