'Loudest Tenant in New York City' Expands in Chelsea
---
---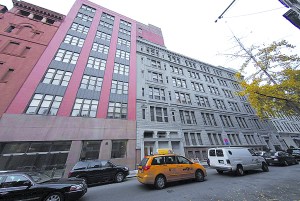 123 West 18th Street
It's the grown-up equivalent of convincing your parents to let you buy a drum set. Finally, the city's most prominent drum school, The Collective, has found a landlord willing to give it a new home.
"This is hands-down the loudest tenant in New York City," said Daniel Hassett of Newmark Knight Frank, who represented the tenant, along with Barbara Craig. "We knew it was going to be a challenge and we thought we could deliver it."
The Collective had been looking for new space for nearly three years before Mr. Hassett and Ms. Craig took over the project. They looked at three spaces with the tenant, but a former recording studio at 123 West 18th Street was a perfect, conveniently soundproofed fit.
The space is just a few blocks from the drum studio's current home atop a McDonalds at 541 Sixth Avenue, where it's been educating the rhythmically inclined for the last quarter-century. The new space will allow the school to expand by more than 50 percent, to 11,800 square feet, from 7,000 square feet.
The lease is for 10 years and the asking rent was $35 a square foot.
The landlord, a small family owner, was represented by Andy Udis of Newmark Knight Frank.