Really No Hope For Atlantic Yards Opponents
---
---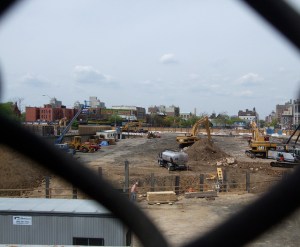 There was something devilishly brilliant to how Daniel Goldstein, Develop Don't Destroy Brooklyn, and a handful of lawsuits nearly brought down the massive $4.9 billion Atlantic Yards project. For years, the arena cum condos were held off by one suit after another, first at the federal level, then in the state courts. The legal challenges went on for so long that when the recession hit, it nearly killed the damn thing. (Someone should really write a book about all this.)
Obviously, it didn't work, as the project found a savior in Russia, broke ground in March, and the arena is (maybe) on its way to opening in time for the 2012-2013 basketball season.
Still, there are a few remaining court cases to unwind, and as the indefatigable Norman Oder reports today, two of them have been tossed out by the Brooklyn Supreme Court. On Monday, Justice Abraham Gerges yet again ruled that the state was justified in its use of eminent domain at the Atlantic Yards site. The particulars of the case charged that the Empire State Development Corporation needed to file a new set of Determinations and Findings because the project had changed so much.
As before, Yards opponents could take some small consolation from the judge's decision, in that he essentially said what the state did was a terrible thing, but it not being the judiciary's place to overrule the legislature (and its constitutionally mandated subsidiaries, like the ESDC), there was really nothing he could do about it:
[T]he court further finds that the alleged additional changes to the Project that petitioners rely upon in this action, even if factually true, similarly do not change the public purpose to be served by the Project, i.e., to eliminate blight and the blighting influence of the below-grade rail yard and to construct a civil [sic] project.
Such declarations provided more solace in the past because they could be used in later arguments for further cases and appeals. With only one of those left, this may be more of a slap in the face than a stepping stone, though, as it is yet another reminder of the dozen-plus cases, no matter how righteous and just, that have been lost.
Justice Gerges also dismissed a case on Monday questioning whether or not Forest City Ratner had purchased associated air rights from Peter Williams Enterprises, from whom it had bought the Spalding Building. The judge ruled in FCR's favor. Granted this wouldn't have stopped the arena, but simply meant money for PWE.
Update: The Atlantic Yards Report thinks that maybe the Real Estate Desk is giving Gerges too much credit.

mchaban@observer.com