State Agency Signs for 10 Years at W&H's Revamped 501 Seventh
---
---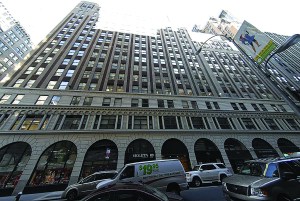 501 Seventh Avenue
The cautious government types at the New York State Office of General Services have decided to stay put at 501 Seventh Avenue. The agency signed a 10-year lease for 40,000 square feet, which it has been subleasing from the New York Power Authority.
"It's particularly significant to us that OGS decided to sign a direct lease with us after its subtenancy," said Fred Posniak, a senior vice president at W&H Properties, which owns the building. "It means that the agency knows firsthand that we deliver on our promises and are committed to tenant satisfaction."
Perhaps. Certainly, the happily settled agency will enjoy a recent $53 million renovation to the 87-year-old building, which includes a total redo of the lobby, new elevators and windows and, of course, new bathrooms.
The agency will occupy the eighth floor and part of the ninth, which still leaves another similar two-floor space of nearly 50,000 square feet. The asking rent for the space was $45 per square foot.
CB Richard Ellis' Jonathan Fales represented the landlord. The OGS represented itself in the transaction.