Paul Milstein, Dynastic Landlord, Dead
---
---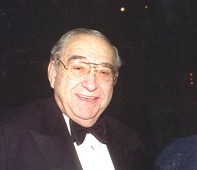 Paul Milstein, who, with his brother Seymour, developed properties around the city, died this morning.
The Milsteins are one of the dynastic real estate families in New York, who dotted the skyline with millions of square feet of offices and residential buildings, and control Emigrant Savings Bank. They also donated the money for the Milstein Hall of Ocean Life at the Natural History Museum, famed repository of the giant blue whale.
The Real Deal has an obit:
Paul, born in 1923, was the more aggressive of the two, but together they built and diversified the family's enterprises. In March, Forbes ranked Paul and the family as number 237 among the world's billionaires, with a net worth of $3.8 billion.

Seymour and Paul were the sons of Russian immigrant Morris Milstein, who came to the Bronx in 1919, eventually founding a major commercial flooring company called Circle Floor.

The brothers began developing properties in secondary locations in the 1960s — the first was the Dorchester Tower near Lincoln Center — and eventually came to own about 3 million square feet of office space and 8,000 apartment units.
More here.