Lebanese Restaurant to Take Old Campagna Spot in Flatiron
---
---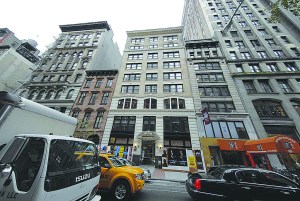 24 East 21st Street
After an eight-year vacancy, the smell of garlic may have just barely cleared from the former home of beloved Italian eatery Campagna. Now Crain's reports that Lebanese restaurant Al Mayass has signed a 10-year lease for that space at 24 East 21st Street.
A few months ago, foodies were abuzz with rumors that Dans Le Noir, where patrons dine blindfolded, would be coming to the long-vacant, 4,400-square-foot spot in the heart of the Flatiron district. Now they'll have to content themselves with full-sighted dining on authentic Armenian and Lebanese cuisine.
Just about anything is an improvement for the space, which for the past few years has been used as a storage site for construction material for the condo conversions upstairs. The asking rent was $70 a square foot, according to Crain's.
"It was naturally very appealing for a restaurant to lease the space," said Roxanne Betesh of Sinvin Realty, who represented landlord Noam Management, along with Ben Kahr of JDF Realty. The site still features an exhaust duct from its glory days as a restaurant-an important consideration, according to Ms. Betesh.
This will be Al Mayass' New York debut. The restaurant already has locations in Lebanon, Kuwait and Saudi Arabia.
Newmark Knight Frank Retail represented the tenant.