Larry Gluck Hits Legal Problems in Tribeca
---
---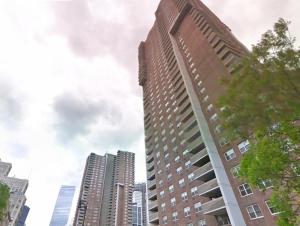 The slowly dissipating fallout from the monster Stuyvesant Town rent regulations court ruling of 2009 has hit Larry Gluck and his Independence Plaza in Tribeca.
Per Crain's, a state judge ruled yesterday that Mr. Gluck's Stellar Management was at fault for taking units out of rent stabilization in the 1,300-unit complex, given that Mr. Gluck had accepted tax breaks through the J-51 program that is meant to encourage renovations.
Mr. Gluck had negotiated a deal with the government in which he returned the tax benefits (which are generally pretty marginal), so long as he was able to keep deregulating apartments.
Not kosher, says the court. From Crain's:
In yet another victory for tenants, a state Supreme Court judge ruled late Monday against Laurence Gluck declaring that the landlord unlawfully deregulated rents at Independence Plaza North, a big downtown Manhattan residential complex, while receiving tax breaks.

The decision is the latest blow to the landlord, who has prospered by buying Mitchell-Lama housing projects, which are rent-stabilized properties, in the city and then taking them out of the program and raising rents. Independence Plaza, a 1,331-unit complex in TriBeCa was taken out of the Mitchell-Lama program in 2004. The lawsuit, which was filed five years ago, claims that Mr. Gluck unlawfully turned the building into a market-rate property while still accepting J-51 tax breaks from the city.
This is just the first ruling in a case that seems likely to be appealed.
Update 3:05 p.m.
Stellar Management sent over this statement from attorney Stephen Meister:
While we are disappointed by yesterday's ruling we are confident it will be overturned upon appeal. The fact remains that both the State's Division of Housing and Community Renewal and the City's Department of Housing Preservation and Development have already concluded that Independence Plaza North is not covered by rent stabilization.