Game, Set, Schonbraun: Bruce Schonbraun on Foreign Investors, Workouts and the Kids Entering the Biz
---
---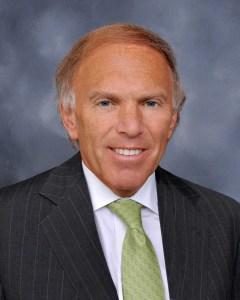 Bruce Schonbraun, 64, heads the publicly traded global real estate practice of FTI Consulting and the real estate arm of the FTI Schonbraun McCann Group, perhaps the largest real estate consulting and advisory firm in the U.S. His gift for gab intact, the New Jersey resident sat down to chat about recent deals on behalf of the aptly named Canada Pension Plan Investment Board, his advice for new brokers and his unquenchable thirst for everything tennis.
The Commercial Observer: Are foreign buyers still interested in Manhattan real estate?
Mr. Schonbraun: No question about it. Manhattan continues to be a place that investors-particularly foreign investors, sovereign funds and pension funds-consider to be the place-with a capital T-H-E-that they want to be in. They consider New York to be within the general parameters of what's happening in the investment market right now, which is a flight to quality. It always has been.
Will that level off eventually? The euro isn't what it was even a mere six months ago.
I don't think so. I think high-quality dollars want to be in high-quality locations, and, at the end of the day, New York is still New York, and the investors with the largest amounts of capital who desire the highest-quality assets, I think, have always [come] to New York. And I think that will continue.
The FTI Schonbraun McCann Group advised the Canada Pension Plan Investment Board in its purchase of partial 45 percent stakes at 1221 Sixth Avenue and 600 Lexington Avenue. What was the strategy behind investing in partial ownership?
At 1221, CPP came in and bought SL Green's 45 or 49 percent interest in that building, with the Rock Group owning the rest. And I think it was a similar situation at 600 Lexington, where Green has the majority position and CPP has a large minority position. I think the strategy is kind of straightforward. It's an age-old strategy, but it works. It's about lining yourself up with the smartest, best partners, and if they also have capital so that they can be shoulder to shoulder with you, that's all the better. So I think CPP looked at the Rock Group and they looked at SL Green, and they said, 'We want to be in New York City. We want to be with the best assets, and we're not operators ourselves so we'd like to team up with the best operators.'
FTI Schonbraun McCann Group advised the unsecured creditors tied to the Lehman Brothers bankruptcy. Has the firm been involved in a lot of workouts since then?
FTI is one of the leading companies in the restructuring and workout arena. We've represented some of the largest unsecured creditors-and the secured creditors. But in this situation, with Lehman Brothers or General Growth Properties, we've represented some of the largest unsecured creditor situations out there now.
As a firm, FTI, on a global basis, our corporate finance group is absolutely intimately involved in workouts and restructurings. As for the Schonbraun McCann Group-that's the real estate arm of FTI-our emphasis remains on M&A transactions, due diligence and consulting. But we also are involved in some major restructurings.
You've taught at Columbia and other institutions. In light of the downturn, what do you possibly say to would-be real estate titans who want to break into the business?
In my younger days, I had the opportunity, which was great, to be an instructor at the Columbia University business school and also at the Seton Hall business school, and, more recently, I've been a mentor for the last several years at the Wharton business school. For myself, personally, it's just great working with younger people, fresh minds and open minds. And it's interesting because I've worked with younger people when the world has been on a rocket path up and also a freefall down.
What kind of advice are you giving now? 'Get out as quick as possible?'
No, not get out as quick as possible. My advice is that you have to have a passion for something in life, and you have to go for it. So what I tell people is you have to combine three things: what you like to do, what you're good at and where the opportunity lies. And, if you can put all three of those things together, then you're going to have an amazing situation. If you get two out of three, you're going to have a very good situation because to match those up is pretty difficult.
But listen: For a young person coming out of grad school, it's definitely a challenging environment because there's just not a lot of economic growth that's happening right at this moment. There's not a lot of job expansion. So it's definitely challenging. But it doesn't mean you have to go into a box. It just means you have to work harder.
Are you hiring?
We are. I'm a sports-type person. So in sports terms, we go for the best athlete always. So we try not to always draft by position. Sometimes you have to because, if you don't have a quarterback or in basketball you don't have a shooting guard, you need to fill a position. But we're always looking for new, fresh talent, and we're always looking to add good people-whether it's in good times or bad times. In good times, it's always a lot easier. In bad times, the people have to be that much better.
Speaking of life passions, I hear you have one of the preeminent tennis memorabilia collections in the city, if not the country-or, perhaps, the world. Any truth to that?
Tennis has been a big part of the Schonbraun family's life. Certainly, for myself, I played tennis through college. I played competitively, and still play competitively in different age groups. I have two sons, both in real estate. My older son, Michael, was the captain of the Division I program at Colgate. My younger son, David, was the star player at Princeton University. And I actually took off a year and played on a satellite tour for a while. So between Michael and David and myself, there has been a great enthusiasm for tennis. …
But, anyway, I have this very large tennis memorabilia collection, which I've been accumulating over the past 20 years. I have hundreds and hundreds and hundreds of rackets. Rackets that Ivan Lendl won the French Open with. I have Jimmy Connor's T2000 racket, when he won the U.S. Open. I have a really, really cool picture in my office of Babe Ruth playing tennis with Bill Tilden. … But I've always found sports to be an incredible training ground for life.
Do you think it's possible that you're the top tennis player in the real estate industry?
I would imagine so. But I'll leave it at that.
jsederstrom@observer.com