Big-Time Buildings Broker Darcy Stacom Buys Some $4.8 M. Shoes!
---
---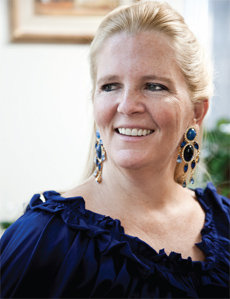 CB Richard Ellis vice chairman Darcy Stacom has set records for her commercial real estate closings, but, according to city records, the winsome blonde and her husband, Chris Kraus, a managing director at rival brokerage Jones Lang LaSalle, recently closed a deal of their own: a $4.775 million four-bedroom at 447 East 57th Street. Ms. Stacom, who called herself "a shoemaker with no shoes" in a 2009 interview with The Real Deal, in reference to having lived in a midtown rental building for the past two decades, has finally bought herself some kicks.
In the same interview, Ms. Stacom confessed, "Every time we thought we were going to buy, for some reason we decided not to. […] We've had different-sized apartments in the building: We started in a one-bedroom, went to a two-bedroom, then went to a three."
And now a four-bedroom! But this time it's for keeps.
Ms. Stacom–who has arranged such seminal deals as the $5.4 billion sale of Stuyvesant Town and Peter Cooper Village in 2006 and last year's sale of the former AIG headquarters at 70 Pine Street–was named CBRE's preeminent investment sales professional after brokering the record-breaking $2.8 billion sale of the General Motors Building in 2008.
Ms. Stacom and Mr. Kraus–who, when asked whether he would be willing to speak about the recent apartment purchase, coyly told The Observer, "No, I'm on my way out and I really have no comment"–bought the Candela-designed co-op from George Biddle, a senior vice president at the International Rescue Committee, and his wife, Leslie Biddle.
The high-floor Sutton Place apartment was originally listed for $4.995 million with Warburg Realty's Frederick Peters and Harriet Kaufman, who told The Observer, "It's our company policy not to discuss any of our transactions." (Mr. Peters also declined to comment.) The rambling full-floor in "this most desired Rosario Candela building" has four exposures through new Thermopane windows, as well as two wood-burning fireplaces. Each of the four bedrooms boasts its own en suite bath–perfect for the couple's two teenage daughters who, if they are anything like every other teenage girl on the planet, probably won't want to share–as does the generous staff area.
Indeed, the listing, which begins, "SENSATIONAL SUTTON!" can now be changed to "SENSATIONAL STACOM!"
cmalle@observer.com
447 East 57th Street
,
CB Richard Ellis
,
Chris Kraus
,
Daily Transom
,
Darcy Stacom
,
Frederick Peters
,
George Biddle
,
Harriet Kaufman
,
Leslie Biddle
,
Manhattan Transfers
,
Warburg Realty Partnership Ltd.