Anthony Orso: The Man Behind Cantor Fitzgerald's Big Plans
---
---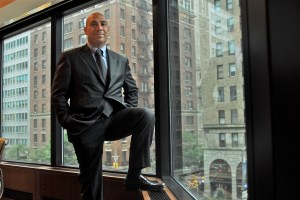 Last year, Anthony Orso, Michael Lehrman and Steve Kantor departed longtime positions at Credit Suisse to help build Cantor Fitzgerald's ambitious commercial real estate practice, Cantor Commercial Real Estate. As executive managing director and chief executive, Mr. Orso, 47, is at the helm of the new platform, which was first announced earlier this month.
The Commercial Observer: How far back had the formation of Cantor Commercial Real Estate been in the planning stages, and at what point did you get involved?
Mr. Orso: CCRE was conceived in the fall of last year, after Steve Kantor, Michael Lehrman and myself came over from Credit Suisse to Cantor Fitzgerald. We'd put together a plan with Howard Lutnick, the CEO of Cantor Fitzgerald, to develop a series of real estate merchant banking platforms.
CCRE is the first of those platforms, and it was designed to take advantage of the dislocation in the Wall Street CMBS market such that a firm like Cantor Fitzgerald could take advantage of its strong fixed-income distribution team, partner with outside capital and be able to compete with the larger banks. The plan is to make new fixed- and floating-rate senior loans. It will be no different than the loans that have generally been made in the CMBS business starting from roughly 1994.
Give me an explanation of how the partnership with the CIM Group will work.
CIM is a real estate private-equity firm based in Los Angles with whom myself, Mr. Kantor and Mr. Lehrman have a long-standing relationship. We decided to become partners with CIM because we thought they added a tremendous amount to our business beyond just capital. They have been an active real estate acquisition firm throughout the United States over the last decade. Their insight into property values and markets is critical to helping our knowledge base as a lender.
More importantly, two of the principals-Richard Ressler and Avi Shemesh-are very close friends of ours, and that working relationship has helped us build CCRE, and we think it will help us in the future to expand CCRE into, one day, a possible public real estate finance company.
Are you feeling bullish right now?
I think the timing is right to start this business. Property values have started to stabilize across the United States, and in some markets, like New York City, we've started to see those property values increase. That makes for a good time to be a lender because our bet is that the values stay constant. And in that kind of environment, we feel very confident making real estate loans.
It was suggested recently that a commercial real estate bubble was emerging, with numerous real estate groups going after a small number of properties. Is that the case?
I don't think there's a bubble, but there is about $100 billion of real estate equity sitting on the sidelines, and about $70 billion of real estate equity trying to be raised, and I think about 70 different funds; so there is a fair amount of capital sitting on the sideline that feels bullish at today's pricing levels.
Given the fact that there's been a relatively small amount of sales in most of the major markets, there are a number of investors chasing the same assets. To me, that doesn't smell like a second shoe dropping. I think it just proves the point that we believe, that at these value levels, people see long-term opportunity for themselves and their investors.
Cantor Fitzgerald went on a big hiring spree recently. Will that continue, and from where are you looking for new employees?
CCRE is approximately 30 people today, and we anticipate that will double in the near term. Over time, it wouldn't surprise me if we get up to approximately 100.
Where are you looking to hire from?
Well, let's start with the locations. CCRE will be a national origination team. Obviously, our headquarters will be here in New York, and secondarily in L.A. We've already started an office in Atlanta. We're in the process of starting an office in the Chicago, Dallas, D.C., Boston and greater Miami regions.
What's the time frame?
The offices that are open today are New York, L.A. and Atlanta.
You helped originate tens of billions of dollars while at Credit Suisse. Do you see that kind of money available right now?
We believe that with $1.4 trillion of loans coming due over the next four years, there will be a period of time-and I don't know if that's six months, nine months, 12 months or 18 months-where there will be a fair amount of financing opportunity in the marketplace. And given the fact that there's much less competition, less people making those kinds of commercial real estate loans, we believe that there will be plenty of opportunity for us to make smart loans, and we believe the investor community will be very anxious to buy those kinds of bonds from those assets we've produced.
Locally or nationally, do you see the so-called double dip happening?
As long as the federal government keeps interest rates low, I do not anticipate there being a double dip.
So, smooth sailing the rest of the way?
We're heading toward smooth sailing perhaps in a year to two years. But I think we're definitely sailing. We're no longer in choppy waters standing still.
Can you give a hint at what kind of originations you're currently working on?
The one thing we anticipate is our first securitization at the end of this year or the first quarter of next year. We're in the process of evaluating and quoting and closing loans. But, until we've closed, I can't really comment on those transactions.
And of your 30 new hires, everybody's already working on originations?
Everyone's out working hard and long into the night-despite the fact that it's the end of the summer. That's the one downfall in this whole thing: I haven't taken much time off. Maybe next year.
jsederstrom@observer.com