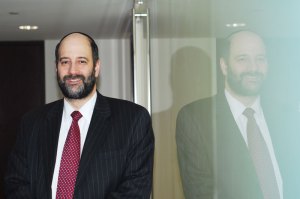 Of all the phenomena to sprout from the economic collapse, one can be credited to Gary Eisenberg: the wellspring of new nomenclature that's recently entered the real estate lingua franca.
There's "extend and pretend," of course, the well-worn phrase used to describe the banking strategy of extending defaulted loans in an effort to avoid the wrath of ratings agencies.
Although a windfall of boom-time loans are set to expire next year and in 2012, Mr. Eisenberg believes many of them may be extended for years to come, making it difficult to determine when, or if, a glut of defaults will actually surface.
But don't forget its inevitable offspring, "hope and cope," a term used to describe how banks and borrowers minimize risk while waiting out the economic downturn.
And, finally, there's "die and fry," a rather dour phrase epitomizing the willingness by some at-risk borrowers to simply move on and cut the losses.
Give thanks to Mr. Eisenberg, a fast-talking legal partner at the law firm Herrick, Feinstein for the latter terms, which he coined late last year.
"Those are my terms," confirmed Mr. Eisenberg last week from a conference room in the midtown office of Herrick, Feinstein. "I basically use them to describe in shorthand some of the phenomena I've seen."
Of course, a windfall of new corporate jargon wasn't the only thing to hit the real estate industry following the credit crunch, as both home buyers tangled in the subprime crises and developers facing default will surely attest to. But for Mr. Eisenberg, who specializes in commercial real estate foreclosures and buying and working out distressed debt, the aftereffects of the collapse were less predictable than he and other attorneys expected.
"It's been a busy couple of years, but not quite in the same way that I would've expected when I saw this starting to come on the horizon in the middle of 2007," said Mr. Eisenberg, whose list of clients has included Lehman Brothers, real estate investor J.E. Robert and the servicing company LNV Corporation. "I, like a lot of other people who were involved in forming distressed debt funds, thought there was going to be an inundation of stressed debt coming to market, or that there were going to be a lot more efforts to sell it at discount prices."
Unlike the residential real estate market, which saw a whopping 2.5 million foreclosures nationally between 2007 and 2009, commercial real estate borrowers have largely avoided the same fate through "extend and pretend" schemes and other strategies, Mr. Eisenberg said. As a result, he and other attorneys have been awash, instead, with clients seeking to solve complex capital structure issues and more arcane financing problems such as the enforcement of UCC-secured party deals and debt collateral.
Whether an uptick in loan defaults will occur in the coming years and, subsequently, lead to a more frenzied workload for Mr. Eisenberg and his ilk is impossible to predict, he cautioned. Although a windfall of boom-time loans are set to expire next year and in 2012, he believes many of them may be extended for years to come, making it difficult to determine when, or if, a glut of defaults will actually surface.
"Overall, I've stayed busy because even though the pipelines haven't flooded from the commercial real estate meltdown, if you take a small percentage of the overall number of defaults, you realize that there is still a need to have them worked out and addressed," said Mr. Eisenberg, who has done foreclosures in more than 25 states. "Ultimately, it still results in a fair amount of legal work to be done."
MR. EISENBERG WAS born in Connecticut, but moved frequently each time his Yale-educated father, a chemical engineering researcher for Exxon, accepted assignments in such far-flung locales as Baton Rouge, Halifax, Venezuela and New Jersey. Rather than retreat into his own world, he grabbed on to whatever his temporary homes had to offer, whether it was its culture or, in the case of Venezuela, its language.
"I still speak some Spanish," said Mr. Eisenberg, who lives in West Orange, N.J., with his wife and four children. "If the language is soccer, then I'm very fluent. If the language is anything else, then it reflects the fact that I haven't lived there in over 30 years. But I can carry a conversation."
Mr. Eisenberg joined Herrick, Feinstein in 2007 after an 11-year career at Windels Marx Lane & Mittendorf, a Manhattan-based firm where he served as a partner. It was there that he began a long relationship with Lehman Brothers that, over the course of more than a decade, has involved the handling of everything from the firm's security interests to its bankruptcy workouts.
Although not raised as an orthodox Jew, Mr. Eisenberg said he became observant later after becoming convinced, while studying math and economics at Yale, that the religion itself was slowly evaporating.
"Unless I myself got more involved in what I practiced, then I was going to be a major contributor to a phenomenon that was being voiced in a lot of the population studies that said that the number of Jews in the country by the year 2076 would be 100,000 because everybody will have ceased to have practiced," said Mr. Eisenberg, 46, who regularly attends synagogue with his family in New Jersey. "I decided that I didn't want to be part of that."
Should you presume, however, that Mr. Eisenberg's propensity for legal and financial jargon, his accountant's mind for precision or his relatively late devotion to Judaism has turned him into a soporific stick in the mud, think again, dear reader. A sports fanatic who boasts the ability to recite, in order, each goal scored in every World Cup final ever played, Mr. Eisenberg published the encyclopedia-like The Games That Rate in 2001. Using six criteria as a guideline, the book lists the most cataclysmic moments in the annals of team sports, from the so-called "Miracle on Ice" Olympics hockey match between the U.S. and the Soviet Union in 1980 to Brandi Chastain's medal-grabbing penalty kick against China during the shocking 1999 Women's World Cup final.
"The six things I was looking for are all essentially the elements that come to mind when you're 10 years old and you're in the backyard and you're pretending to be the athlete making the winning play," said Mr. Eisenberg, a devoted Mets fan whose savant-type knowledge of sports history rivals his knowledge of real estate and finance.
For Mr. Eisenberg, it's the uncertainty that connects his love of sports with his passion for real estate law.
"You don't necessarily know in advance of the resolution of a legal dispute how it's actually going to play out," he said. "You can try to predict their actions, you can try to anticipate their reactions and you can try to discern what they might do rationally or irrationally. But just like any major sporting event, it's possible for one team to upset another because you'll never know the results for sure. That's why they play the game."
jsederstrom@observer.com