The Little Retail Neighborhood That Could? FiDi's 75 Wall Aims for Fifth Avenue
---
---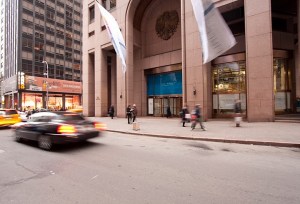 A pair of space-suited astronaut arms reaches out from a wall on the ground floor of 75 Wall Street, flanking a television that plays an animation of a control panel whose hand-drawn screen flashes the word "FAILURE," followed by "SUCCESS."
The artwork, "Jupiter Mission," by the artist team Pamela Reed and Matthew Rader, was unintentionally germane at Thursday evening's party, which Winick Realty hosted with the hope of grasping tenants for 75 Wall's retail space. "In recent years, the Financial District has reinvented itself as a corridor of deluxe residential buildings and high-end retailers," say the brochures that rested on a glass table at the event. The Winick brokers know what they want. The question Thursday evening was whether they would be able to get it.
"We're really pushing for a high-end luxury retailer to come down here," Winick broker and party co-host Annie Shinn said. "But they're slow to pull the trigger."
She rattled off the names of high-end retailers that have already set up camp in the FiDi, names that also appear along the bottom of the brochure's fold-out spread: Hermes, Canali, Tiffany & Co., Thomas Pink, Tumi and BMW. Ms. Shinn, like other real estate brokers who work in the neighborhood, said the area has been evolving into "more of a 24-hour community."
Stephanie Snyder, a broker with Crown Retail, seemed to share Ms. Shinn's optimism. "Despite what happened, Wall Street will always be Wall Street," she said. "It's an iconic location. You don't have a movie named after it for nothing."
But she doubted the area's high-end potential. Another broker, who was chatting with Ms. Snyder, and who withheld his name, thought that only a middle-priced retailer would fit into the neighborhood. He said the area cannot accommodate sellers of luxury goods: Although wealthy people work in the FiDi, they do not shop there. If the neighborhood is "24-hour," he said, that's due to the activities of lower-income residents. Ms. Snyder agreed. The Gap, Banana Republic, Coach or Men's Wearhouse, she said, might be safer options.
"I think Hermes is selling ties and that's about it," she said.
Broker Debra Pinto, with Wohlfarth & Associates, was surprised to see luxury retailers already in the neighborhood. "I didn't think there would be good retail down here," she said. "I was thinking more middle-of-the-road."
As a three-piece band played Herbie Hancock funk, waiters maneuvered trays of ours d'oeuvres: duck prosciutto with apricot, breaded mozzarella with basil, Italian dried sausage, baked cheese puffs, cupcakes and mini carrots. An air conditioner's hum competed with the band, recalling the World Cup's vuvuzela horn. To the ear of Kipton Cronkite, the entrepreneur whose gallery KiptonART is the current tenant of 75 Wall's ground floor, the AC sounded like a "freight train."
Mr. Cronkite's organization hung "Jupiter Mission" and the rest of the art that spans the room's walls. He said he's excited to be operating a gallery in the Financial District.
"We really wanted to re-energize the Financial District by bringing art to the community," he said. "There's a negative perception of the financial community. We want to get people to come down here."
He and Winick both. Broker Elizabeth Rueckerl-Betteil, with New York Commercial Real Estate Services, thought a fancy restaurant would be the best tenant for the space. Serving lunch rather than retail goods, she said, was the best way to take advantage of the wealthy daytime population.
"The neighborhood warrants it," she said. "You could put a Subway in here, but it wouldn't do it justice."
Winick broker Darrell Rubens, who co-hosted the party with Ms. Shinn, said he has high-end retailers interested in the space, but he wouldn't say who. As Mr. Rubens chatted with The Observer, Newmark Knight Frank broker Gregg Gropper joined the conversation. Mr. Rubens playfully ridiculed his friend for not having shaved for the event.
"I'm not even wearing a suit," Mr. Gropper said, tugging a pastel polo shirt.
He told Mr. Rubens he had hoped to grab a Bud Light at the party.
"That's not happening," Mr. Rubens said. "You could get a glass of champagne."
75 wall street
,
Annie Shinn
,
Banana Republic
,
BMW
,
canali
,
coach
,
Daily Transom
,
Darrell Rubens
,
Financial District
,
Gap
,
herbie hancock
,
Hermes
,
Kipton Cronkite
,
KiptonART
,
men's wearhouse
,
reed + rader
,
Retail
,
Thomas Pink
,
tiffany
,
Tumi
,
winick realty