Manhattan Office Vacancy Rate Drops, Thank 11 Times Square
---
---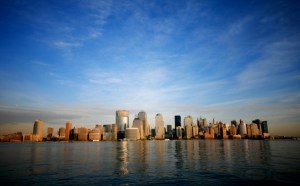 A dollop of good news for commercial real estate observers—though, given recent economic history, all such dollops should be taken with a healthy grain of salt.
Midtown's Class A vacancy rate—a key indicator of office market health—dropped this month from 13.9 to 13.4 percent, according to brokerage Jones Lang LaSalle:
It was last year at this time that the rate reached a peak of 15.0 percent…. The drop in the vacancy rate came amid the leasing of 400,000 square feet at 11 Times Square. The much anticipated transaction by Proskauer Rose, LLP was the first lease in Manhattan's newest office tower.
The report even makes the following, somewhat questionable assertion: "Improving fundamentals and the lack of available product has resulted in pent-up demand for New York City commercial real estate, particularly for core properties with low leasing risk."
Similarly, the Class A vacancy rate in midtown south dropped from 10.6 to 10.3 percent, and the Class A vacancy rate in the more troubled downtown submarket appears to be stabilizing around 9.3 percent.
Not only is leasing velocity up, but as any casual spectator can attest, investors are buying and selling buildings at a faster clip, too. Here's JLL:
Sales volume year-to-date is $3.9 billion, already surpassing the 2009 annual total of $3.5 billion. Annualized sales volume is 80.1 percent below the 2007 historical peak of $48 billion and 87 percent below the 2004-2008 five-year average.

Thus far 2010 has witnessed much greater than anticipated improvements in debt liquidity, equity liquidity and New York City employment and office market fundamentals. This has led to a surge in domestic and foreign capital seeking New York City real estate, accompanied by cap rate compression and more optimistic underwriting. Investor's selectively are starting to sell again, contrasting the 2009 market which was characterized by lender driven sales or owner-occupants raising capital.
drubinstein@observer.com