Malcolm Gladwell to Address Real Estate Community on June 24
---
---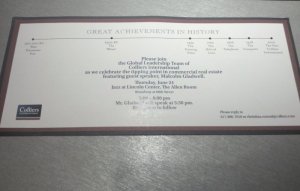 Malcolm Gladwell, the wildly popular New Yorker writer, lecture circuit hero and author of The Tipping Point and Blink, doesn't just make big bucks speaking at dental supply company trade shows (for which he's said to have earned $80,000).
He also gets paid to talk real estate.
The Observer recently got an invitation from real estate brokerage Colliers International for a June 24 celebration of "the tipping point in commercial real estate featuring guest speaker, Malcolm Gladwell" at Jazz at Lincoln Center.
Granted, it's not entirely clear that the commercial real estate market has reached a so-called tipping point. But Mr. Gladwell will surely make up for what he's lacking in real estate expertise with snappy anecdotes that will make the blue-suit bunch feel empowered by the time they stumble out of the Time Warner Center.
A spokesman for the brokerage declined to comment on Mr. Gladwell's speaking fee.
drubinstein@observer.com