After Modest Changes, City Council O.K.'s Domino Sugar Development
---
---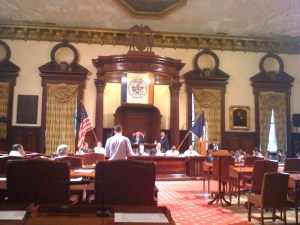 The $1.2 billion New Domino housing development got one step closer to transforming the Williamsburg waterfront on Tuesday when it passed unanimously through relevant City Council committees—with only minor modifications.
After protracted negotiations, the developer, CPC Resources, and local elected officials reached a compromise on affordability that all on the City Council deemed favorable, at least in their hearing statements and press releases.
The major modification—which helped the development pass unanimously through the Subcommittee on Zoning and Franchises and the Committee on Land Use—is a reduction of two 40-story towers to 34 stories.
Otherwise, the project, notably its density, is virtually the same, with the developers still preparing to construct 2,200 apartments in the neighborhood. (The affordable unit count will remain at 30 percent of the project, which makes up 660 below-market-rate units.)
Additionally, the developer will provide a shuttle bus to nearby subway lines; a Community Advisory Board will be implemented; and the Council agreed that any change to the space currently allotted for community facilities would be required to go through the city's lengthy Uniform Land Use Review Process.
For local Councilman Steve Levin—who has been vocally opposed to the height and density of the developer's initial plan—the modifications are somewhat modest.
"This was a very long process," he told The Observer after the committee hearings. "When you negotiate, nobody comes away with everything they want."
"We weren't happy about seeing 40-story luxury towers," he told a group of reporters, emphasizing his feat in height reduction. "We don't want to see a gold coast."
CPC has repeatedly said that it could not afford to meet the demands of the project's opponents, who were urging more affordable units, fewer total apartments, lower heights and a developer-funded bus service. And the developer, with the lone height reduction switch in the density-affordability battle, has pretty much stuck to its plan.
Mr. Levin still praised the final outcome, first when he made a guest appearance at the hearing of the zoning subcommittee, of which he is not a part.
"We are joined by Council Member Steve Levin, who represents the district, and he'd like to get in on the fun and make a quick statement," subcommittee chairperson Mark Weprin said in his introduction to Levin, who then struggled to find the right mike.
Once settled, Mr. Levin said, "Since I began working on the New Domino project almost four years ago … the goal has always been to bring the maximum level of affordable housing units. I'm pleased to say that we have come to an agreement with the developer to continue to provide the 660 units of affordable housing while reducing the heights of the larger two towers, which would have blocked the waterfront," adding, "I look forward to entering into good faith negotiations."
The committee hearing, which was originally scheduled to begin at 11:30 a.m., but didn't actually start until close to 3 p.m., was possibly delayed because of ongoing negotiations, though Mr. Levin only said afterward that, with the city budget, "it's been a very hectic day."
And Mr. Weprin alluded to the chaos, adding at the end of Mr. Levin's speech, "I don't know if they've told you, but part of the budget bill has you paying rent for all the time you spent in City Hall this week in order to fill the gap, so I hope you're O.K. with that."
In both hearings, committee members offered their ayes quietly, though a few added lengthy thank yous, complaints and disclaimers.
Land use committee member Jumaane Williams offered his congratulations but added, "I know sometimes the process can seem a little aggravating."
And Councilman Charles Barron, who often votes against large developments, had quite a lot to say before voting "yes." He lamented that 30 percent affordability is considered a feat: "I don't see why we always have to be on the short end of the affordable formula."
"Some of these jobs never reach the `hood like they need to," he continued. "I'm hoping that this process will be monitored very closely so that affordability is real and the jobs really come to our neighborhood and come to our people.
"With that," he said, "I vote 'aye' on all."
slevin@observer.com