In Loo of Behind a Bush: City Reveals Washington Square's Eco-Friendly Bathrooms
---
---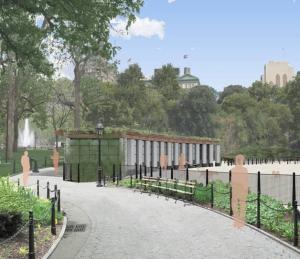 They're a far cry from today's graffiti-covered, bathroom-stall-deprived johns.
Washington Square Park's spiffy new bathrooms, pictured in the renderings to the right, will have solar thermal panels on the roof and a geothermal system, according to Parks spokeswoman Cristina DeLuca. The men's room, apparently long the site of amorous hook-ups, will even have a coupling-friendly, handicapped-accessible stall, along with three urinals. The ladies room will have four stalls, one of which will be handicapped accessible.
(Last summer, Curbed sent out an intern to find out why the men's room didn't have stalls. A "Parks Dude" gave him the following response: "They took the stalls out before the renovations. There were too many gays together in there. You know, this is Washington Square Park. You'd look and see four legs when there should be two in a stall! Crazy! Now there's none of that. Can't do that out in the open.")
Construction is scheduled to start this winter and finish in the winter of 2011, as part of the multi-million-dollar second phase of the always controversial (this being Greenwich Village) reconstruction of Washington Square Park.
drubinstein@observer.com