AIG Offshoot PineBridge to Bunk with Hank Greenberg at 399 Park
---
---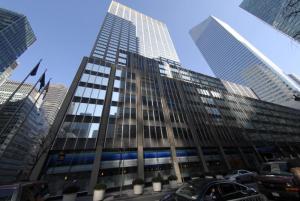 PineBridge Investments, the asset management firm that AIG recently sold to Pacific Century Group for $277 million, has signed a hefty lease at 399 Park Avenue, the midtown skyscraper that recently added former AIG head Maurice "Hank" Greenberg's C.V. Starr & Co. to its roster of tenants.
PineBridge Investments has signed a lease for nearly 115,000 square feet at the 40-story scraper, according to industry sources, taking the fourth floor formerly occupied by Legg Mason, and part of the sixth. PineBridge's 15-year lease comes just months after Mr. Greenberg's C.V. Starr took 120,000 square feet of former Lehman Brothers space in the same tower.
Right now, PineBridge's staff reports to work at its two offices at 277 Park Avenue and 70 Pine Street, the latter comprising one half of the two-building AIG portfolio sold at the bottom of the market to Youngwoo & Associates last year.
Neither John Powers, the CB Richard Ellis tri-state chairman who represents the landlord, nor Mitch Steir, the Studley chairman and CEO who represents the tenant, nor PineBridge itself could immediately be reached for comment.
drubinstein@observer.com