Aby Rosen Slapped with Suit for Breach of Agreement
---
---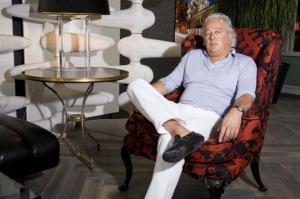 In the waning days of the real estate boom, mogul Aby Rosen, owner of both the Seagram Building and Lever House, harbored grand ambitions for a humble six-story office building at 520 Fifth Avenue, near Times Square. Those ambitions, apparently crushed by the bust, have now precipitated a lawsuit alleging he withheld crucial financial information from his business partners and breached an agreement to vacate the development site of existing tenants.
On Feb. 27, 2007, Tahl-Propp Equities, then owner of 520 Fifth, formed a partnership with Mr. Rosen, owner of two neighboring properties at 516 and 518 Fifth, with the purpose of developing the site, according to city records and a lawsuit filed on Feb. 24 by 520 Fifth Avenue (Tahl-Propp).
"The purpose of the transaction was to exploit the adjoining properties and to acquire additional development rights and potentially sell the properties to another party or enter into a venture for the development of the properties," reads the suit, filed in Manhattan Supreme Court.
At the time, lenders were still throwing money around like so much paper confetti, and Anglo-Irish bank lent the partners a total of $80 million.
Then came the real estate bust.
On July 8, 2009, the lender notified the partners they were in default. They had 10 days to pay up.
On July 31, RFR, Mr. Rosen's firm, told Tahl that it needed to pay $775,000 to cover "essential costs."
Tahl demurred, because, according to the lawsuit, "Defendant was already in material breach of the Agreement."
You see, according to the suit, Mr. Rosen had reneged on his promise to terminate all leases in the three properties by mid-2008 (the idea being that a development site without tenants is easier to develop, and more valuable, than one with tenants). Mr. Rosen also allegedly failed to share financials with his partners, including his own personal financial information and that of Michael Fuch, also of RFR Holding.
Even worse! RFR proceeded to execute at least two new leases for 516 and 518 Fifth Avenue.
Perhapst the greatest insult, however, came when Mr. Rosen tried to buy out Tahl's one-third interest in the development site with a check for …. $25,278.
The plaintiff is seeking an order declaring that it's still a member of the partnership, and an order declaring "all acts taken by Defendant without Plaintiffs consent are void."
drubinstein@observer.com