Sheldon Solow Gives CBRE One Tough Assignment
---
---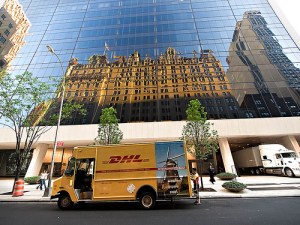 Could Sheldon Solow be turning over a new leaf?
First, the reportedly ailing Mr. Solow, litigious owner of the exemplary 9 West 57th Street, has handed operational control of his company to his son, who, in turn, hired the Pyne Companies' Jay Fischoff, according to the New York Post.
And now, Real Estate Weekly is reporting that that Mr. Solow has given CB Richard Ellis' Steve Siegel the leasing assignment at 9 West 57th Street, formerly handled in-house by Mr. Solow's management team:
For years Sheldon Solow was known for being selective of what tenants he permitted to take space at 9 West. Although Solow's close oversight of the tower added a sense of exclusivity and mystique to the property, large swathes of vacancy have also appeared to accrue as a result, much of it created when Bank of America vacated the building for its new Manhattan headquarters at One Bryant Park two years ago.

Although 9 West 57th Street boasts some of midtown's best views, including sweeping vistas of Central Park on the upper floors, Solow's reputation for being litigious has been another hurdle for doing deals in the tower by creating concerns among tenants. Solow sued Bank of America, for instance, as it was leaving on allegations the bank had not corrected alterations it had made to its space at 9 West that it was obligated to restore to original condition under the terms of the lease.
Mr. Siegel and his team have quite a task before them. Real estate database CoStar puts the vacancy of the building at nearly 30 percent, which is an extraordinarily high number for a building of such prestige, rivaled in trophy-tower status by only a few skyscrapers, like the GM Building and the Seagram Building.
Insiders attribute its gaping vacancies to some well-publicized legal disputes between Mr. Solow and his tenants. However, reputations can be revived. If, Mr. Solow were to, say, execute some deals above the 27th floor—only above that floor does a tenant get money views of Central Park—he might instill enough confidence in the market to fill up some of the cavernous space in the base floors below.
More from Dana Rubinstein:
Everything You Wanted to Know About a Recent Sam Chang Sale
Score! Neil Rubler Makes Voice's 10 Worst Landlords of '10