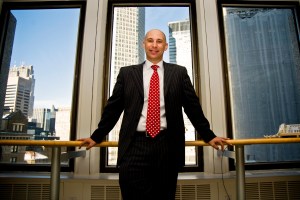 By his own estimation, Peter Turchin has shuffled little more than a modest 40 feet since joining CB Richard Ellis as a new broker some 16 years ago.
But by inching across the hall from the firm's 30-member consulting group on the 18th floor of the MetLife Building to its far more exclusive agency group, Mr. Turchin has taken a giant leap into what he and his colleagues describe as a landlord-focused enclave unique among the city's constantly shifting commercial realty landscape.
Indeed, while other brokers-and the occasional landlord-centered team at rival real estate firms-merely dip their toes in the water, Mr. Turchin and eight of his agency group colleagues routinely handle an estimated 50 percent of the city's third-party transactions. Depending on whom you ask, it's the only group plumbing such depths in the landlord representation game.
"A lot of people, when they do agencies, they whip out their agency book and say, 'O.K., do a flier, do an ad and do this and do that,' said Mr. Turchin, 41, who was named an executive vice president at CBRE in 2007. "We don't do that. We don't whip out the playbook and say here's our process. We spend a lot more time looking at the space and the asset and trying to figure out a different way to market the space. That's why we're different."
Since 2003, Mr. Turchin has leased more than 1 million square feet annually on behalf of landlords as varied as Boston Properties, Forest City Ratner, SL Green and Investcorp, for which the broker recently inked four tenant deals totaling 30,313 square feet at 280 Park Avenue. Those transactions, all finalized within the past six months, are with Viking Global, financial services firm PCCP, hedge fund XL and PEFCO, Mr. Turchin said.
Among the eight properties he is currently responsible for is the 23-story building at 101 Avenue of the Americas, near where Hudson Square and Tribeca connect. Built for, and fully occupied by, 32BJ, the city's largest labor union, the 430,000-square-foot building is now being re-envisioned as a multi-tenant commercial property. It's no small feat. Mr. Turchin and his colleagues are meeting with architects to discuss lobby reconfigurations and other ambitious repositioning ideas in an eventual bid to grab the hearts and minds of prospective new tenants.
"For me, that's an interesting project, because if I say 101 Avenue of the Americas, nobody knows it," said Mr. Turchin of the 19-year-old, glass-facade building. "If I showed you a picture, you'd say, 'I know that building,' but nobody really thinks about it. So for me, it's a great opportunity because we're going to tell the story of that building."
Repositioning, Mr. Turchin said, is a large part of his strategy as a member of the agency group, which was originally spearheaded by Mitch Rudin-now president and chief executive of CBRE's tristate region-in the early '90s after the firm identified a gap that needed to be filled in landlord-side representation.