Tenants Want Protections After Stuy Town Default
---
---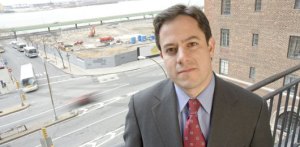 Looks like the tenants at Stuyvesant Town/Peter Cooper Village are viewing the impending default on the 11,200-apartment property with some hope they can get new layers of protection from market rate conversions. The Times reported that owners Tishman Speyer and BlackRock, along with their investors, will miss a debt payment Friday, plunging the $5.4 billion 2006 deal into default.
In a statement sent out Friday morning, Councilman Dan Garodnick, a resident of the complex, said the long-term goal is to keep the complex "a haven for middle-class people."
Tenants bid on the complex in 2006, aiming to keep many of the apartments at below-market-rate levels, though they were outbid by Tishman Speyer and others.
From his statement:
"And for the long term, we are already exploring multiple avenues to ensure the affordability of this community, to guarantee proper maintenance, and to save open spaces from development. We will insist on having a seat at the table in any restructuring, and on cooperation from Fannie Mae and Freddie Mac, who own considerable portions of the most senior debt.

"Let us look forward and learn from the mistakes of the past. This was always intended to be a haven for middle-class people, and that is what it must stay for the long term."
ebrown@observer.com