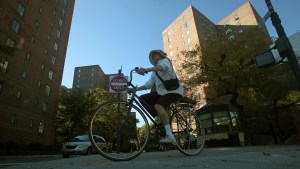 There's now a common bond between Stuyvesant Town-Peter Cooper Village and a sea of new homes in the Las Vegas suburbs: mortgage default.
Last week, the giant real estate firm Tishman Speyer and its investors missed the full monthly debt payment on their $3 billion mortgage, triggering default and a new era of uncertainty at the 11,200-apartment complex.
A small city in its own right, Stuy Town has always been more of an emblem of broader real estate trends than just another set of red-brick buildings. It emerged in a postwar building boom in the 1940s, and sold in late 2006 at the exuberant peak of the market for the highest price ever paid for a single property.
Now, as a restructuring looms over what is presumably the largest ever default on an individual property, a fight to shape the complex's long-term place in Manhattan is in its nascent stages. Tenants and elected officials hold that the historic property should stay a permanently affordable home for middle-class New Yorkers-a refuge insulated from the long-term upward march of rents. On the other side are the investors who bought the complex without permanent affordability requirements, and are presumably cool to the idea of anything that might further injure their red-soaked balance sheets. Already, tenants are looking to buy the property themselves; real estate firms are swirling, looking for involvement; and the Bloomberg administration is signaling a new willingness to intervene, with all looking to steer Stuy Town in one direction or another.
"There's a mountain of interest amongst the residents," Al Doyle, president of the Stuyvesant Town and Peter Cooper Village tenants association, said of a sale. "We'd like to try to be able to influence-to have a say in our housing situation."
A Restructuring Awaits
The question of Stuy Town's future is not a new one, and indeed, just three years ago, it seemed to be answered pretty definitively. With the Tishman Speyer-led team in control of the property's fate thanks to their superhigh bid, the East Side property was on course to be a luxurious Manhattan enclave, complete with shiny granite, a new movie theater, a thick forest of added trees and shrubbery and, eventually, a full stock of market-rate-paying renters.
This route was chosen-understandably, given the $5.4 billion MetLife and its shareholders received-in the face of a tremendous effort by tenants and sympathetic lawmakers to publicly pressure MetLife into keeping much of the complex affordable. Rallies with bullhorns and public grandstanding by every politician from Senator Chuck Schumer to Council Speaker Christine Quinn were apparently not enough to affect the end result.
But the reckoning of a bid with audacious assumptions about rent growth and apartment deregulation has opened the door once again to a debate over affordability. With the cash shortage-the owners assumed that by 2011 the property would be generating $480 million annually; this year, analyst firm Realpoint estimates, it will have just $285 million or so in revenue-a default now means that Tishman Speyer and its partners no longer control the property. A restructuring awaits; Tishman Speyer wants to hold on to the property, but it's not uncommon for owners in large foreclosures to be removed.
Post-Tishman Possibilities
Just what a restructuring would look like is tremendously murky, but the fate of the complex for now lies in the hands of a player that has suddenly become a new force in New York real estate: CW Capital. The Massachusetts-based real estate firm is the "special servicer" meant to sort through all the various debt holders on the $3 billion mortgage, which was chopped up into pieces and sold as bonds of a commercial-mortgage-backed security in 2007.