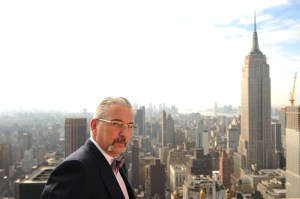 The last thing Fred Posniak expected to hear when he walked into a regularly scheduled public relations meeting last week was that Malkin Holdings' prestigious W&H brand of prewar Manhattan properties was on track for a record-shattering year. But in a year that most analysts would describe as positively inert, the portfolio is expected to tally 1 million square feet by the end of December.
To be sure, brokers for the five-year-old brand—which boasts 8 million square feet of Manhattan property—have already leased 823,980 square feet this year and expect to lease an additional 200,000 over the next two months, said Mr. Posniak. In October alone, the company inked 93,455 feet at a handful of prestigious properties.
"Somebody turned the faucet on," said Mr. Posniak, the senior vice president of Malkin Holdings, during an interview last week at his stately offices at One Grand Central Place in midtown. "Just think about that, to succeed in a challenged market like this. It's an anomaly."
Perhaps most rewarding for Mr. Posniak, however, is watching as the firm's consolidation efforts pay off at nine properties across the city, most notably the Empire State Building.
The group has pumped more than $550 million into the iconic building, much of it spent on consolidating what just five years ago was a property with an estimated 600 tenants, some occupying space as small as 200 square feet. Today just 250 tenants occupy the building, in spaces as large as 100,000 square feet.
"Only a year and a half ago, we had 45 tenants on one floor," said Mr. Posniak of space that has since been consolidated into a single 100,000-square-foot office occupied by Coty, the German cosmetics firm. "We've done that at every building, and to do that you have to have a landlord who has the financial capability, because while you're consolidating spaces, you're not getting any income."
In fact, high-profile tenants have been rushing to occupy buildings overseen by Malkin Holdings since the beginning of the year. At the Empire State Building, the F.D.I.C. signed a 15-year lease for more than 100,000 feet; Swedish construction firm Skanska signed a full-floor lease. Meanwhile, a new wine bar called Empire Room that will be operated by the owner of the Campbell Apartment is expected to open in December, Mr. Posniak said.
At One Grand Central, where Malkin Holdings is located, Pine Brook Road Partners, a private-equity firm, and Fairfield-Maxwell Services Ltd., a shipping management company, have also signed large-scale leases. And at 112 West 34th Street, ReachLocal, a global leader in local online marketing, and the Bridgespan Group, a consulting firm for nonprofit groups, both signed long-term leases.
"We're rocking in every building," said Mr. Posniak, 52. "It used to take a long time to go from space-showing to proposal to lease negotiation and finally execution, but tenants are starting to realize that maybe it's time to put their feet in the water."
The philosophy behind the consolidation efforts currently in the works is to draw higher-profile brokers who can fetch equally high-profile tenants, Mr. Posniak said. The belief is that those tenants are more likely to renew and expand than a smaller mom-and-pop business.