Nouvel/Hines to Ask Council for Their 200 Feet Back on MoMA Tower
---
---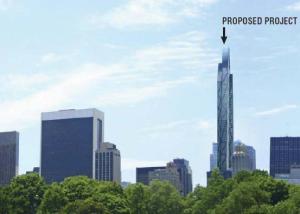 The Jean Nouvel-designed skyscraper planned to rise next to MoMA goes before the City Council today for a hearing, where, according to a person informed of the decision, developer Hines Interests plans to request that its original height be restored.
The request comes after City Planning Commission chairwoman Amanda Burden chopped 200 feet off the top of the tower, which was to rise to 1,250 feet, the height of the Empire State Building. And it's a bit of a reverse of the usual scenario: Typically, when developers reach the Council—the last stage in the city's land-use approval process—the Council members negotiate with them to make their project smaller, not bigger.
It's probably important to note that 1,250 hasn't always been its height. Back in 2008, when the project went through the Landmarks Preservation Commission, the developer put its planned height at 1,155 feet; so before it shrunk by 200 feet, it apparently grew by 95.
We'll have more from the hearing later today.
ebrown@observer.com