Only in New York! Museum of Vampyric Artifacts Opens Haunted House
---
---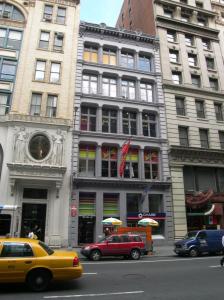 By day, the newest museum in town offers everything a New Yorker might expect—guided tours, worldly artifacts, meticulously curated exhibits. But by night, the exhibits come alive and your tour guide might just turn out to be a vampire. Welcome to the Museum of Vampyric Artifacts (MoVA, for short), the latest incarnation of the annual Nightmare haunted house. This year—the event's sixth—director Timothy Haskell decided to cash in on the cultural capital of all things fanged and bloodsucking.
But similarities to the teen vampire pandemic end there. Mr. Haskell, who works as a theater director during the Halloween offseason, transformed the 14,000-square-foot space into a carefully crafted, immersive experience—an unfolding narrative in which every audience member becomes a protagonist. Last year's haunted house staged nightmares from real New Yorkers, which Mr. Haskell solicited on his Web site, and this year's promises to again eschew cheap blood-and-guts thrills for a darkly psychological brand of horror.
While the haunted house will no doubt benefit from its unprecedented surge in auditioning actors (thanks either to Robert Pattinson or the recession), some visitors may be relieved to learn that Mr. Haskell has given up on nonhuman performers this year—it turns out rats and eels don't do well with stage direction.
The haunted house opened this week at 623 Broadway.
The asking rent for the short-term lease was $45 a square foot, according to the New York Post. Lawrence Real Estate Enterprises' Charles E. Lawrence III represented the landlord; Stephen Powers and Paul Wolf of Denham Wolf Real Estate Services represented the tenant.