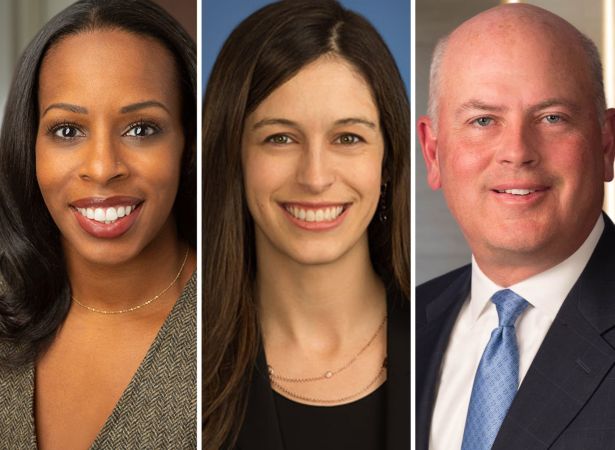 #6
Margaret Anadu, Ted Borter and Miriam Wheeler
Global Head of Sustainability and Impact; Co-Heads of the Americas Real Estate Financing Group at Goldman Sachs
Last year's rank: 12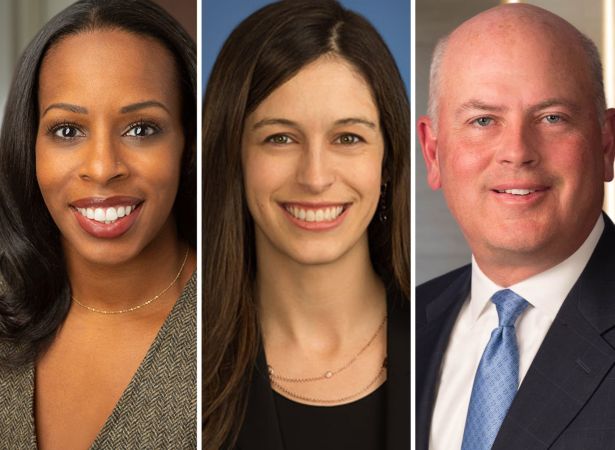 Goldman Sachs came close to its normal commercial real estate lending activity in 2020, despite headwinds swept into the CMBS market by the pandemic.
The Wall Street giant originated $12.5 billion last year compared to the just over $14 billion it lent in each of the two years pre-COVID. Goldman lent for CMBS and balance sheets throughout the health crisis, adapting with market conditions. Its volume was essentially split between CMBS and balance sheet lending compared to prior years, when CMBS would claim at least 75 percent of the volume.
"We really never stopped lending and were making loans as early as May of last year on our balance sheet to support our clients with acquisitions, or refis, or whatever capital market activities they may have had," Miriam Wheeler said. "We supported our clients, both using our balance sheet and in the CMBS market, and really never stopped lending despite the noise of COVID."
After essentially reopening the CMBS market with its first post-COVID deal with last May's $772 million GSMS 2020-GC37 deal with Citi, Goldman then led a recapitalization of Blackstone's $900 million Hudson Pacific Partners media portfolio in Los Angeles. Goldman also spearheaded a $900 million refinance for Veritas/Baupost's multifamily portfolio in San Francisco.
Wheeler said a concerted effort was made to minimize its CMBS exposure to hotel and retail, instead focusing on more resilient asset classes, such as multifamily, industrial and self-storage. She said stakes were high for the GSMS 2020-GC37 deal to have success, and it ended up being well received with new orders multiple times oversubscribed.
"Getting that first deal back in the market and proving that there still was bond buyer demand — because that was a question mark at the time — was important to the overall market coming back, so that is something we're really proud of," Wheeler said. "Had we not tested the waters, it might have taken much longer for the new issue market to come back and, therefore, liquidity to return for borrowers."
Along the same lines, Goldman Sachs' Urban Investment Group also had an active year, closing more $1 billion of deals for the 12 months ending April 1 and $1.9 billion for calendar year 2020. UIG financed $188 million for the National Urban League's new $242 million headquarters in Harlem, paving the way for a nearly 42,000-square-foot, 17-story building.
"The $1.9 billion deployed in 2020 was our largest investment to date in our 20-year history and I think that reflects a real desire that we had, and ambition and mission to be as responsive as possible, as we all witnessed historic levels of tragedy over the past year," Margaret Anadu said. "We were firing on all cylinders."
The UIG also provided equity and debt financing to BlocPower, a Black-owned, New York City company that uses machine learning and structured finance to partner with utilities, governments and private property owners to finance upgrades to building energy systems in urban areas. It also capitalized a $30 million loan fund in partnership with HOPE Enterprise Corporation to finance small business loans for Black entrepreneurs in the South, as part of a public-private partnership that includes New Orleans Mayor LaToya Cantrell.
Sherry Wang and Daniel Alger were named co-heads of UIG in late February after Anadu, its previous longtime managing director of nearly 16 years, was appointed Goldman Sachs' global head of sustainability and impact for asset management.
In the early months of the pandemic, Anadu was instrumental in creating Goldman's community response strategy, focused on reaching communities and business owners that traditional banks often overlooked. Goldman is now committed to deliver more than $1 billion to small businesses and communities around the U.S. through the firm's Small Business Stimulus package.
Anadu played a key role, too, in creating Goldman's One Million Black Women initiative last year, which commits to invest $10 billion and provide $100 million in philanthropic capital over the next decade to narrow opportunity gaps for at least one million Black women in the U.S. The funds will be invested in commercial opportunities across various areas, such as health care, education and housing.—A.C.