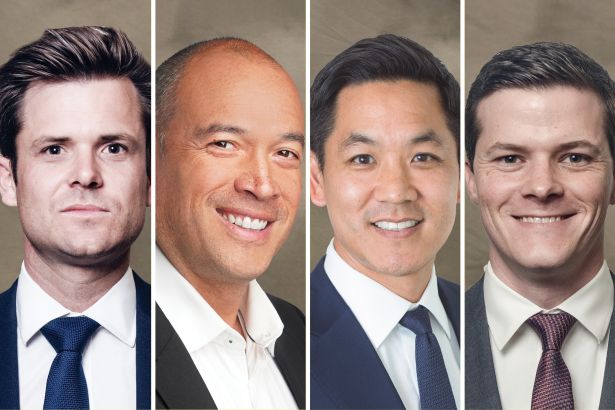 Scott Trebilco, Chris Graham, Jimmy Yung and J.T. Sizemore, Blackstone Real Estate Debt Strategies
Scott Trebilco, Chris Graham, Jimmy Yung and JT Sizemore
Senior managing director and managing director at Blackstone Real Estate; managing directors at Blackstone Real Estate Debt Strategies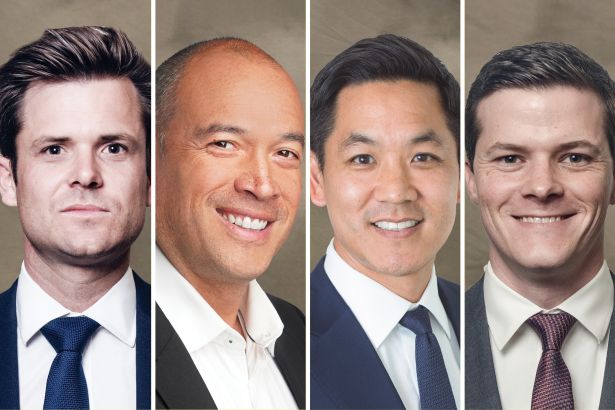 Like most real estate companies, Blackstone had its hand in multifamily and industrial real estate this past year — but, unlike most companies, its investment was on a scale that most others could only imagine. "We're thematic investors," Chris Graham said. "Our top tier remains logistics and rental housing."
It's not limited to that, though. Blackstone has gone big on hospitality and Class A office, two slightly more precarious sectors that are ripe for opportunity as the nature of work shifts.
Scott Treblico, who oversees new investment opportunities in the hospitality sector, led the acquisition of Extended Stay America in 2021, followed by the acquisitions of Woodspring's long-stay hotels, and Hersha Hospitality.
The new flexible work environment supports investment in both longer-stay hotels and resorts, according to Treblico. "Thursday is the new Friday," he said. "The workweek has gone from five days [in office] to three or four days."
The same thesis has informed the debt side of Blackstone's operation. Jimmy Yung and J.T. Sizemore arranged the financing for BlackSand Capital's acquisition of the Royal Lahaina Resort on Maui in Hawaii, as well as Hines' acquisition of the former PG&E headquarters in San Francisco, which will be transformed into 1.6 million square feet of modern office and retail space. 
In Los Angeles, Blackstone is banking on One Culver, an office building in Culver City targeted at major media and entertainment companies, in a bet on streaming and other online content creation.
Looking ahead, rentals and logistics are still the geese laying golden eggs. "Industrial vacancies are at fractional levels," said Graham, who played a part in Blackstone's $7.6 billion acquisition of PS Business Parks. "Our focus is to continue to look for infill logistics that are close to rooftops. We're still very bullish on that."
In multifamily, rising mortgage rates are pushing would-be homebuyers to rent, squeezing an already undersupplied sector even further, and increasing demand from renters.
Despite investing on a thesis of increased mobility, Blackstone itself is all about the five-day workweek. "Our approach is better together," Graham said. —C.G.