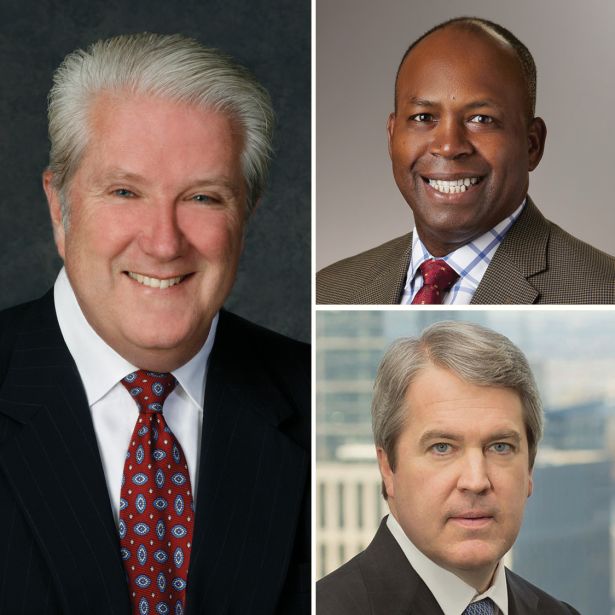 #1
Brian Baker, Al Brooks and Vince Toye
Global head of commercial mortgages at JPMorgan Securities; managing director and head of JPMorgan commercial real estate; head of community development banking and GSE lending at JPMorgan Chase
Last year's rank: 2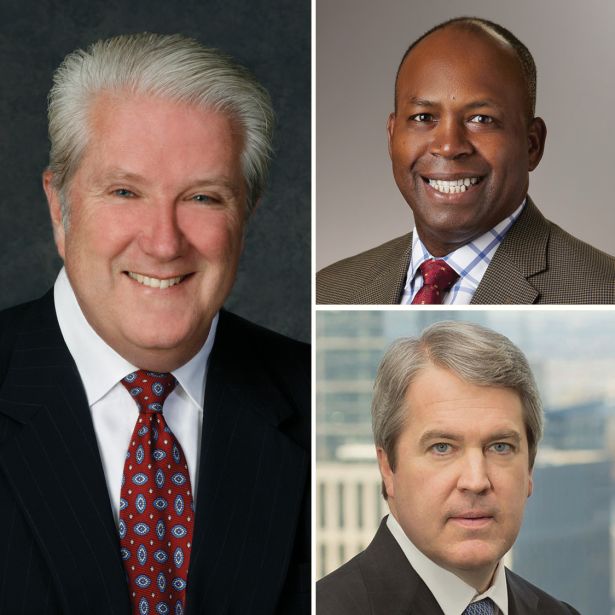 After shattering origination records last year by delivering $54.6 billion in commercial mortgage originations, Brian Baker's corporate and investment banking group at JPMorgan Chase nearly matched its record-setting figure this year by originating $50.8 billion in commercial mortgages despite rising inflation and the highest interest rate environment in 15 years. 
To this end, the firm leaned heavily into multifamily to counteract the uncertainty, providing $25 billion in multifamily loans in 2022, of which $5.3 billion went to the restricted rent space. 
"We came off a record year," Baker said, "and nearly accomplished matching that, which we think is a pretty good outcome. If you step back and think about 2022, it was absolutely a tale of two halves." 
Baker said the firm weathered the storm by focusing on five lines of business that allowed his team to maintain flexibility: lending for securitization, lending on balance sheet, construction lending, secondary trading (both agency and non-agency securities), and large warehouse financing.  
JPMorgan Chase appears to have gotten even stronger amid the regional bank upheaval of 2023: the firm acquired First Republic Bank on May 1 and has stepped up throughout the ongoing financial crisis to stabilize an unpredictable banking system.
Major deals for Baker's 100-person-plus team included financing $675 million in debt to acquire the American Copper Building residential tower in New York City; providing a $754 million condo inventory and hotel ramp loan to recapitalize the Aman Hotel (formerly the historic Crown Building) in New York City, which will help to complete the redevelopment of the building into a mixed-used luxury building 22 residential condos and 83 hotel rooms; and a $2.2 billion whole loan (financed 59 percent loan-to-cost) — made up of a $1.89 billion mortgage loan and a $359 mezzanine loan — to Fontainebleau Development and Koch Industries to finance the Fontainebleau Las Vegas, a 3,644-key resort on the Las Vegas Strip. 
On the firm's commercial banking side, Al Brooks and Vincent Toye organized a $30 billion commitment to advancing racial equity that the firm made in 2020 to help close the racial wealth gap. In 2022, JPMorgan financed $12 billion to construct or incentivize the preservation of 95,000 affordable housing units, and financed $300 million worth of New Markets Tax Credits to build health clinics, grocery stores and job-training facilities in low-income communities. Additionally, the firm deployed $190 million in capital to finance community development financial institutions in underserved communities. 
"We're doing three times the volume on the affordable side than we were doing just a few years ago," Toye said. "For us, everything here at JPMorgan is long term." 
With a view toward the future, Toye and Brooks have leaned into financing large-scale affordable housing production nationwide, allocating capital to develop workforce housing, environmentally friendly housing, and supportive housing rentals attached to government services at a ground-floor level. 
By emphasizing the New Markets Credit — which can't directly finance housing projects, only add-on spaces — Toye has helped transform underserved neighborhoods in big cities such as Chicago, Los Angeles and San Francisco as well as rural areas in Tennessee and North Dakota, by applying the tax credit on financing for new child care centers and community spaces near new developments. 
"It's my goal to get to all lower 48 states we have branches or outreach in," Toye said, "and do a project in every single state." —B.P.