Related Co.'s Rick Vogel & architect Frank Gehry
The Grand, Downtown LA
Related Co.'s Rick Vogel & architect Frank Gehry
It's the project that all of Los Angeles has been waiting on … for almost two decades.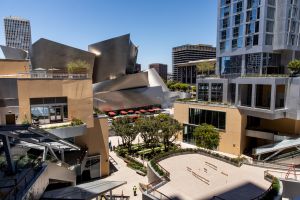 Indeed, The Grand epitomizes both what is possible downtown as well as what is made extremely difficult to complete when it comes to urban development in Los Angeles. Nonetheless, the $1.3 billion development finally opened its doors this year.
New York-based Related Companies first secured a contract to build a massive project on Grand Avenue in 2004. After 18 years, and through a national recession, a global pandemic and an untold number of design changes, the project spearheaded by Rick Vogel and Related Urban has opened the hotel and residential towers. They're called the Conrad Los Angeles and The Grand by Gehry — as in Los Angeles' favorite architect, Frank Gehry, who designed the project (and its countless previous alternatives).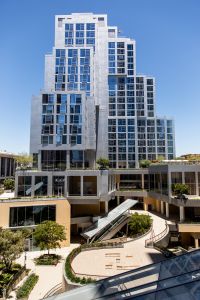 The 45-story multifamily structure features 436 units, while the high-end 28-story hotel — which is Conrad Hotels & Resorts' first location in California — offers 305 rooms. The Grand by Gehry includes 113 luxury units, 234 market-rate units, and 89 below-market, subsidized units for low-income tenants. The complex also features things like a 7,000-square-foot spa, a 16,000-square-foot rooftop terrace and pool deck, and a 4,800-square-foot ballroom.
The retail component — including 164,000 square feet of restaurants, shopping and entertainment venues — will open next spring with concepts from Chef José Andrés and ThinkFoodGroup.
This landmark megadevelopment faces Gehry's famous Walt Disney Concert Hall across the street, and it caps the generation-defining transformation along Grand Avenue that stretches from LA Live to The Grand, and features The Broad museum, The Music Center and the 12-acre Grand Park.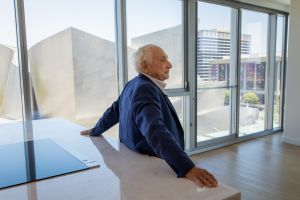 "There's no question that this project has delivered Los Angeles its newest work of art to showcase to the world as an architectural triumph as well as a mixed-use complex with affordability to lead an economic resurgence in Downtown Los Angeles," City Councilman Kevin de León said in a statement when The Grand opened its doors this summer. —G.C.