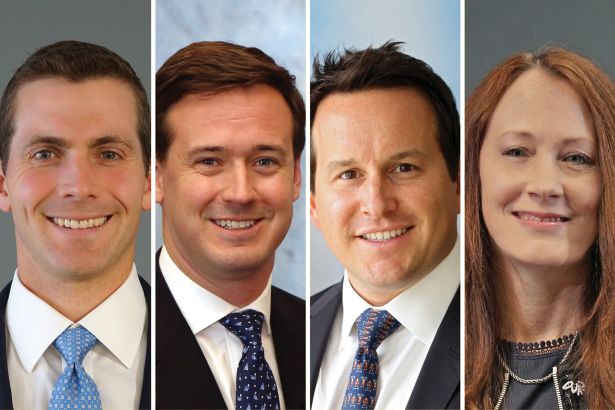 Michael Kathrein, Don Carson, Andrew Holt and Rikki Keating of Eastdil Secured
Michael Kathrein, Don Carson, Andrew Holt and Rikki Keating
Managing directors at Eastdil Secured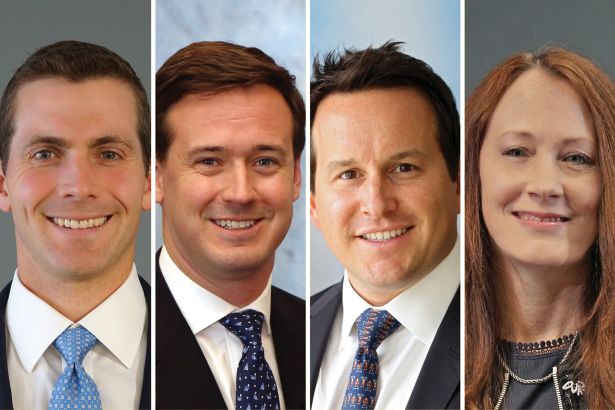 Eastdil Secured has been behind some of the biggest transactions in Los Angeles in the past six months, and Rikki Keating, Don Carson, Andrew Holt and Michael Kathrein are optimistic about the next six. 
Two of those deals — the $3 billion-plus sale of Orange County-based Donahue Schriber Realty Group to real estate investment trust First Washington in April and the $537.5 million Unibail-Rodamco-Westfield sale of the Westfield Santa Anita mall in August — reaffirmed investors' confidence in one pandemic-battered industry: retail.
"If you wanted to test retail, you would throw a global pandemic at it and a stay-at-home order, which is pretty much what happened in most of California," said Keating, who has $70 billion of retail transactions under her belt. "[But] high-quality, institutional, open-air [and] primarily grocery-anchored assets came out of the pandemic stronger than ever. And I think that's why we saw a lot of increased demand."
It's more than just malls. Eastdil's $65.2 billion in industrial deals and its financings for hospitality properties — both assets that can adjust quickly to inflationary pressures — stand to benefit from the economic trend on everyone's minds, Holt said.
And investors are interested. Case in point: The firm brokered $430 million in debt for BlackSand Capital's purchase of the Royal Lahaina Resort toward the end of 2021, according to Eastdil.
Kathrein was slightly less optimistic about Los Angeles' office crop, which remained nearly 30 percent vacant at the end of the second quarter, though he saw conversions to life sciences, medical and residential properties as a potential solution to troubled downtown towers. But larger trends, such as a potential recession, were less concerning to Eastdil's crew.
"I feel like borrowers are a bit more sober to the reality of a higher interest rate environment relative to the past 10 years," Carson said. "In general, borrowers still tend to believe that peak benchmark rates will occur within the next nine months to a year, and then hopefully we have a calmer economy." —C.Y.