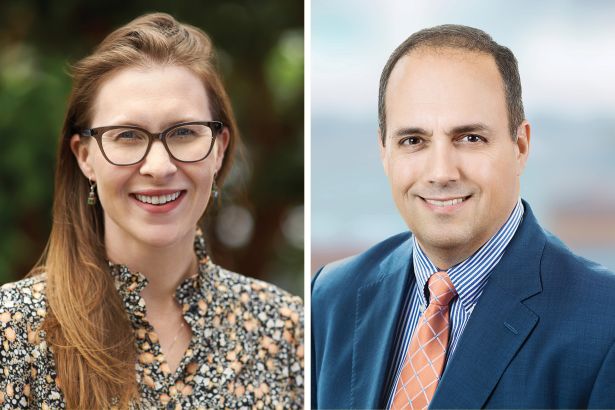 Peter Moglia and Hallie Kuhn, Alexandria Real Estate
Peter Moglia and Hallie Kuhn
CEO and co-chief investment officer; senior vice president of science & technology and capital markets at Alexandria Real Estate Equities, Inc.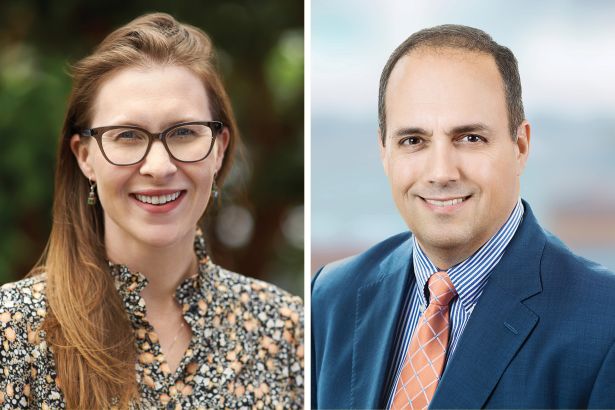 Alexandria Real Estate's life sciences leasing in Los Angeles has been, well, larger than life.
The real estate giant's 287,000 square feet of life sciences properties in Los Angeles represents a key, and growing, part of Alexandria's national portfolio, which saw an all-time high of 4.1 million square feet of leasing deals close in the final quarter of last year.
Now, Peter Moglia and Hallie Kuhn have set their sights on a four-building, 350,000-square-foot parcel Alexandria assembled in 2021 for at least $20 million, according to data firm PropertyShark.
Alexandria could grow the Thousand Oaks campus, across the street from Amgen's biotechnology development at 1100 Rancho Conejo Boulevard, to as large as 650,000 square feet over the next three to four years as L.A.'s life sciences market expands, Moglia said. And it does have room to expand. 
"L.A. may become an established core cluster. but it usually takes at least 10 years for a critical mass," Moglia said. "Although Los Angeles is starting to gain some traction, it does not have anywhere near the depth and breadth of the tenant base of San Diego or San Francisco, so it's flying under the radar for now."
With the COVID-19 pandemic still ongoing, life sciences is likely to remain a strong market in Los Angeles and California at large, Kuhn said. And that's been quite good for Alexandria's business — the firm recently inked the second-largest lease in its history, a whopping 427,000 square feet for Bristol Myers Squibb's new research hub in San Diego.
"While COVID really highlighted the need to get ahead of infectious disease and pandemic-related diseases, there's so much opportunity for the tenants across the portfolio to really be able to tackle diseases in a really comprehensive and novel way," Kuhn said. —C.Y.